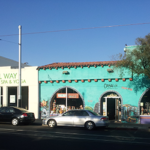 TUCSON, ARIZONA –
Vice President
David Blanchette
, CCIM, of the NAI Horizon Tucson office negotiated the $1.14 million ($194 PSF) acquisition of a 5,874-square-foot retail property at 522 N. 4
th
Ave., in Tucson. NAI Horizon represented the seller, Stan S. Katz of Encinitas, Calif., in the transaction.
Doug Jones
of RE/MAX Alliance Group in Gilbert represented Avtar C. Verma of Paradise Valley, Ariz., the buyer. "Over the past three years we have seen a steady increasing interest in the 4
th
Ave. entertainment corridor for investors and local merchants," Blanchette said. "With the completion of the Light Rail Modern Street Car and the massive infusion of capital to the Downtown Tucson renaissance, 4
th
Avenue is ready for its own resurgence. "Successful restaurants and merchants are expanding like Boca Tacos and Lindy's, and Creations Boutique, which is owned by Mr. Verma. I expect to see 4
th
Avenue expand its diverse and eclectic mix of restaurants, shops, and clubs to meet the growing downtown population," Blanchette said. For additional information, Blanchette should be reached at 520.729.1697 and Jones can be contacted at 480.892.5300. To learn more, see
RED Comp #5062
or to see more listing like this go to
RED Listing Registry.