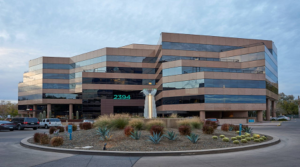 Company Will House Regional Headquarters in Camelback Corridor Tower
Phoenix, Arizona – Fieldwork, a leader in world-class marketing research services and facilities, has leased space at Biltmore Center, 2394 E. Camelback Rd. The location will serve as the company's regional headquarters.
The firm leased 11,808-square-feet of space for a term that spans more than 10 years. Fieldwork, which was formed in Chicago in 1980, has expanded its services as market research has evolved from the standard focus group to incorporate other methodologies and technologies.
Biltmore Center is a premier location for companies like Fieldwork," says Steven Schwarz with ViaWest Group, owner/landlord of Biltmore Center. "We are thrilled they found value in our amenities and the community we have created here. We look forward to watching the company thrive in their new setting."
Ryan Timpani and Phil Breidenbach of Colliers International in Arizona represented ViaWest Group in the lease negotiations. Jenny Turner of Cresa represented Fieldwork. Fieldwork will take occupancy of its new suite in January 2020 and eventually will employ 50 people at this location.
"This property offered Fieldwork the modern workplace environment they desired within a premier Camelback Corridor location," says Timpani. "Biltmore Center's ecosystem and its adjacency to so many restaurants, shopping, and all levels of housing also contributed greatly in attracting Fieldwork. On-site dining, conference space, lounge and gathering areas, etc. are all terrific offerings that benefit Biltmore Center's tenant companies."
This particular tower at Biltmore Center was constructed in 1990 and remodeled in 2019. Its Class A office space is situated at the northwest corner of 24th Street and Camelback Road in the heart of the Camelback Corridor.