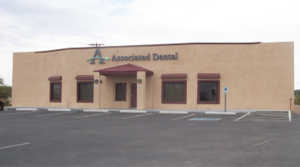 TUCSON, ARIZONA -- Jeremy Price of VOLK Company represented Florida-based, Main Street Town Center, LLC in the purchase of a net leased Associated Dental located at 4890 South Mission Road from Gerald G. & Adelina Popplewell and the Popplewell 1999 Family Trust for a purchase price of $769,100 ($264 PSF).
Built in 1987, the 2,918-square foot building is on .56 acres at the northwest corner of Mission Road and Irvington Place, just north of Irvington Road.
The seller was represented by Tom Neiman of Cushman & Wakefield | Picor and Rajan Lal of Mandala Real Estate of Lafayette, California.
With three locations in Tucson, Associated Dental has an additional five locations in metro Phoenix.
Founded in 1993, Associated Dental is the only free-standing general dentistry provider in Arizona to be accredited by the Accreditation Association for Ambulatory Health Care (AAAHC). AAAHC is a national organization that measures quality of care in hospitals and dental offices. It has achieved this accreditation consistently over the past fifteen years.
For additional information, Nieman can be reached at 520.546.2727 and Lal is at 415.889.0082. Price should be contacted at 520.441.4771.
To learn more, see RED Comp #8948.