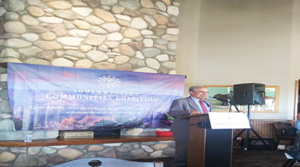 BENSON, Arizona – Over 100 community leaders attended the kickoff of a new coalition in Benson on Wednesday. The Southwestern Communities Coalition (SWCC) goals are to shine light on the issues impacting economic development, jobs, natural resource use, stewardship and property rights in rural southwestern communities. It was formed to act as an advocate for jobs, economic development, stewardship and the protection of property rights and initiated by George Scott President of Southeast Arizona Economic Development Group.
"The Coalition is needed to be a voice for these issues, because rural America is hurting, and urban ivory-tower elites are trying to impose their ideas on rural Arizona and rural America," Brian Seasholes, Executive Director of the coalition. "The urban elites, especially 'fake environmental groups' that engage in no tangible conservation work, own no land, rent no land, or lease no land, but file endless lawsuits that cripple rural economies and, ironically, do great harm to conservation in the process."
"Arizona's and America's TRUE conservationists are its working landowners, its ranchers, farmers and timber owners. Working landowners DO conservation every day. It is high time to stand up to the fake environmental groups and take a stand for rural Arizona, jobs, economic development and true conservation," Seasholes continued. "These fake environmental groups have made no secret that their ultimate aim is to depopulate rural Arizona and destroy rural economies. There's a term used for this; rural cleansing."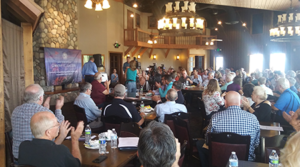 Speaking at the kickoff event was well-known rancher, Jim Chilton, an Arivaca investment banker and fifth-generation rancher who in July 2002, sued the Center for Biological Diversity and won. They were out to do harm, out to stop grazing and out to do whatever they could to prevent the Chiltons and others like them from letting cows on public land, Chilton explained. At the end of an appeal over a two-week trial, jurors gave Chilton a resounding victory, awarding him $100,000 for harm done to his reputation and cattle company, plus $500,000 in punitive damages. So it pays to fight back.
The Mayor of Benson, Toney King and Assistant Mayor, Joe Konrad also spoke about how these outside groups are taking away the dreams of their children to stay in the communities where they were born and raised.
New Mexico Cattle Growers' Association and the Arizona New Mexico Counties' Coalition, Caren Cowen, referred to herself as one of the 'economic refugees' who was forced to leave her Benson home employment in New Mexico.
State Representative (District 14) Gail Griffin, Chairman, Natural Resources, Energy and Water at the State Legislature presented her work in support of water management policies and property rights at the State Capitol.
Cochise County Manager, Ed Gilligan, spoke to the importance of leaders to guide the community and development. Cochise County, like all of rural America, is shrinking in population as people leave to earn a living.  Growth for rural America has to be part of the formula for the future of rural America.
Everyone in the room anxiously awaited to hear the next speaker, Mike Reinbold, Partner of El Dorado Holdings, the developer of a 28,000 home Master community in Benson, The Villages at Vignetto for an update. Arizona Water Resources has assured an adequate supply of water for Vignetto as well as serval more communities like Vignetto without an impact to the environment. The developer's goal is to be underway by 2020. This will bring 16,000 direct and indirect jobs and 8,500 permanent jobs to the community a new hospital and free standing medical resources to be built and bring $23 billion in economic impact over 20 years into the area.
The recent reported news stating "problems with the water permit" were misstated, in fact nothing to do with water supply, but rather had to do with the "fill and dredge" work in a washes.
The Coalition spokesman is attorney Lany Davis who flew in from Washington, DC to attend. He reminded everyone that FACTS Matter and TRUTH Matters. We are united and a bottom up organization. We are the people and the good stewards of our land. It is love of the land that inspires everyone to come together as one voice to fight the radical ideologies wanting no growth.
The SWCC is looking at creative ways to achieve its goals through policy advocacy, innovative messaging, and working with like-minded individuals, organizations, businesses and government.
The SWCC is putting up a big tent in which all who share the coalition's goals and objectives are welcome. And the coalition is going to push back hard against those who seek to stop economic growth.
Brian Seashole closed the event with the old saying 'if you don't ask, you don't get' which applies to non-profit groups like the SWCC. So the coalition is asking people to:
1) visit the website (https://southwesterncommunitiescoalition.org/), take a look, and if you like what you see, please join. Joining costs nothing, and the coalition keeps your information private and does not share or sell it.
2) make a donation to the SWCC. we need community support and would be very grateful for it
3) visit the Facebook page (https://www.facebook.com/SWCommunitiesCoalition/) and follow the coalition work there;
4) spread the work to friends, family, colleagues and anyone you think would be interested in the SWCC and urge them to join, follow on Facebook and donate.
Southwestern Communities Coalition deserves your help and support!