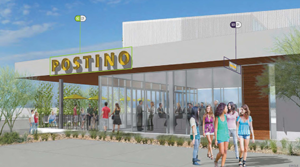 TUCSON, ARIZONA – Being called the Culinary Dropout corridor at Tucson Blvd and Grant Road, Phoenix-based Common Bond Development partnered with Tucson's Larsen Baker to construct at 12,000-square-foot building at 2500 East Grant Road. Common Bond also developed the Orange Therapy Fitness and Culinary Dropout building across the street at 2501 E Grant Road at the former Grant Road Lumber Yard
The new multi-tenant building at 2500 East Grant located on the southeast corner of Tucson Blvd. and Grant Road, is mostly pre-leased with two new restaurant concepts for Tucson coming and a barber shop. There is only a 1,900 square-foot space still available.
With plans to open Q1 2020, Snooze from Colorado and Postino out of Phoenix will be the two restaurants opening next to Dante's Fire.
This will be the first Snooze in Tucson, a breakfast and lunch eatery with a bar menu, has leased a 4,000-square-foot space. Snooze is a restaurant concept from Colorado that has been grown from the Denver Ballpark neighborhood in 8 years to 37 locations in Colorado, California, Arizona and Texas.
Phoenix-based Postino WineCafe is also expanding here into a 4,000-square-foot space. Postino currently has six locations in metro Phoenix, with additional locations in Texas and Colorado.
"Postino has always been focused on serving our surrounding community and really becoming a part of the fabric of a neighborhood," Postino CEO Lauren Bailey said in a press release. "So while we looked at dozens of potential sites over the years, it wasn't until we walked this site with [developer] Brian Frakes and explored the amazing neighborhood, including local favorite like Dante's Fire and Kingfisher, that we knew we'd found the perfect home for Postino in Tucson."
The developers, Grant & Tucson Redevelopment II, LLC, recently purchased the adjoining property at 2526 East Grant Road leased to Dante's Fire for $530,000 ($239 PSF) and will continue to lease the popular gastropub & cocktail bar with late hours serving locally sourced New American cuisine.
Larsen Baker self-represented the developers and is handling the leasing at 2500 E Grant Road.
To learn more, see RED Comp #7174.