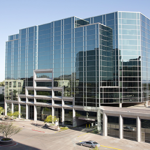 Phoenix, AZ – CBRE Group, Inc. plans to move its Phoenix office from its current location in Tower III to Tower IV of the iconic Esplanade complex in the Camelback Corridor.
The new office is part of CBRE's global "Workplace360" initiative, the company's leading-edge approach to workplace strategy designed to promote flexibility, mobility and productivity through technology-enabled, 100 percent free-address and paperless offices. At 75,000-square-feet., the Phoenix office, which will house 470 employees, will be the largest of the company's 34 Workplace360 offices globally.
CBRE plans to occupy floors four, five and six in Esplanade IV, consolidating operations to promote better collaboration across the firm's multiple lines of business and departments. CBRE will also have dedicated space in the building's lobby on the first floor.
"While we are not moving far in terms of distance, our new office will be a world away from traditional office space and critical to our mission of building advantage for our clients," said Craig Henig, senior managing director, southwest region and Arizona market leader. "Through leading-edge technology, strategic use of space and enhanced mobility, CBRE is creating an office that will enable us to create exceptional outcomes for both our internal and external clients."
The new Phoenix office will focus on client and employee experience with an emphasis on how the space supports the way employees work today.
"Phoenix's new space will have a strong focus on employee collaboration and productivity, as well as hospitality elements for both internal and external clients," said Cicily Scharlach with CBRE Workplace Strategy. "We have already begun engaging employees by forming committees focused on delivering an environment that supports the way they work in terms of flexibility and mobility, and the experience they want to have when they come to the office every day."
Grounded in research that shows employees spend approximately 50 percent of their time at their desk, CBRE's Workplace360 initiative provides a flexible way of working and a system of places, technologies and behaviors that allow for choice based on a person's changing needs throughout the day. The new space will include a free-address system, meaning unassigned workstations and a large percentage of the overall footprint dedicated to collaborative workspaces and meeting rooms. Employees will be able to choose where they want to work throughout the day—whether at a desk, in a huddle room, or in the social café area. A focus on technology and a paperless environment further enables employee mobility.
"CBRE is committed to being a world-class company and the leader in workplace strategies. Our Workplace Strategy team includes some of the brightest minds in the industry when it comes to understanding how a work environment impacts culture, productivity and talent retention," said Mr. Henig. "In our Phoenix office we are practicing what we preach and creating a space that embraces the way people work today—including a strong emphasis on employee choice and flexibility."
CBRE's in-house Workplace Strategy team is leading the implementation of the new space along with CBRE's in-house Project Management team led by Susan LaGanke, which is overseeing the construction process. CBRE expects to move into its new office in January 2018.
CBRE's Chuck Nixon, Tom Adelson and Brad Anderson negotiated the transaction on behalf of CBRE with the landlord, LBA Realty.
"The Esplanade, under LBA's ownership, is undergoing exciting new renovations that will also have a significant role in enhancing CBRE's employee experience," said Henig. "We're looking forward to the Phoenix office's transition to the Workplace360 model and we appreciate having a great partner in LBA."