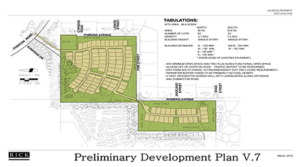 TUCSON, Arizona — An affiliate of Tucson Land and Cattle Co. (Jim Campbell, manager) bought 59-acres at La Canada & Overton in Northwest submarket Tucson in Pima County for this new subdivision, Overton Reserve.
The developer plans to develop 106 lots: the Northern 39-acres with 83 lots and a 2.1 RAC, and the Southern 19.6-acres with 23 lots and 1.2 RAC all to be Overton Reserve. The property commanded a sale price of $2.5 million ($23,585 per lot) platted. Property was rezoned while in escrow.
Developer believes it can begin to break ground in Q2 2017.
The seller, GST LLC (Charles Jackson, manager) was represented by Ben Becker and Adam Becker with CBRE in Tucson.
For more information, the Becker Team should be reached at 520.323.5100.
To learn more, see RED Comp #4400.
Also in the Northwest Tucson submarket, Lennar Homes purchased 25-lots from Miramonte Homes in Boulder Bridge Pass at Dove Mountain in Marana. The 25 finished lots average 10,022-square-feet and sold for $2.7 million ($108,000 per lot).
Boulder Bridge Pass is at the northwest corner of Dove Mountain Boulevard and Boulder Bridge Pass. The remaining lots in this 88 lot subdivision on about 44.5 acres continue to be built by Miramonte.
To learn more, see RED Comp #4449.
DR Horton acquired 60 lots at Vista Montana Estates in Southeast Tucson from a New York investor, LG Realty LLC. Vista Montana Estates was originally platted for manufactured homes with a total of 139 lots in this Phase Two and are 50'x90' average.
These final lots commanded a sale price of $1.98 million ($33,000 per lot) located off I-10 and Wilmot Road in Tucson.
DR Horton joins other builders Lennar and TJ Bednar at Vista Montana with these remaining 60 lots.
Dan Feig and Aaron Mendenhall with Chapman Lindsey Commercial Real Estate Services in Tucson represented the seller in the transaction.
For more information, Feig and Mendenhall should be contacted at 520.747.4000.
To learn more, see RED Comp #4405.