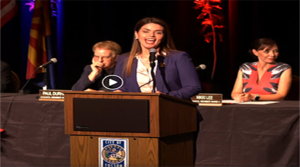 TUCSON, ARIZONA -- A new Mayor and Tucson City Council were sworn in Monday, December 2nd, as Regina Romero took the oath of office as the City of Tucson's first female and first Latina mayor. Lane Santa Cruz was sworn in as the new council member in Ward 1, Nikki Lee was sworn in as the new council member in Ward 4, and Paul Cunningham was sworn in for another term in Ward 2.
Mayor Romero grew up in Somerton, the daughter of immigrant farm workers. Both of her parents joined her on stage Monday as she took her oath of office. Romero graduated from Kofa High School and got her undergraduate degree at the University of Arizona, before attending the prestigious John F. Kennedy School of Government at Harvard University.
Romero thanked her family and supporters during an emotional speech Monday. She told the people of Tucson her door is open to "everyone and anyone who shares the goal of lifting our city to the next level of progress and prosperity."
Romero is married to Ruben Reyes, a district director for Congressman Raul Grijalva. The couple has two children.
Once the body of all Democrats was officially seated, Cunningham was selected to serve as vice mayor. A replay of the inauguration replay can be watched on the City of Tucson Facebook page.