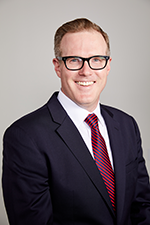 Los Angeles, CA  – Barker Pacific Group ("BPG") is pleased to announce the appointment of Nick Potter to Chief Financial Officer. Based in BPG's Los Angeles headquarters office, Mr. Potter will oversee all accounting, capital raising, debt financing , financial structuring, and business operations for the organization across its various real estate investment platforms. He will also head up company communications and reporting with shareholders, investors and lenders. Mr. Potter joined BPG in 2018 as Partner in charge of Capital Markets and possesses a deep understanding of corporate finance, capital markets, banking, and real estate investments.
Prior to joining the BPG team, Potter acted as Managing Director in the Real Estate Group at CIT, where he led a loan origination team, having originated over $615M in loans. He also managed a portfolio that exceeded $735M. He formerly served as Vice President in the Commercial Real Estate Group at OneWest Bank, where he was responsible for portfolio management and new loan origination underwriting.
Mr. Potter has an MBA and a Master of Real Estate Development from the University of Southern California. He received his BS in Finance from Cal Poly San Luis Obispo and holds a California Real Estate Broker's License.
Barker Pacific Group, Inc., (BPG) is a firm of experienced real estate professionals active in the acquisition, development, construction management, and asset management of major commercial projects. Founded in 1983, it has developed and owned first-class properties located in throughout California, Texas, Arizona and Florida. Michael Barker serves as the Managing Director of the firm, which maintains offices in Los Angeles, San Francisco, Concord, and Phoenix. For more information, please visit https://barkerpacific.com/.