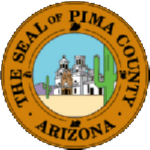 Pima County Natural Resources, Parks and Recreation and Pima County Small Business Commission are seeking 2017 award nominations.
Pima County Natural Resources, Parks and Recreation is seeking nominations from throughout the county for the Chuck Catino Community Leadership Award, named for the longtime volunteer and founder of the Born Again Jocks Association (BAJA) Club and the driver behind Green Valley's Canoa Preserve Park, where the softball complex is named in his honor.
Nominations will be accepted until Jan. 26, 2018; the Parks and Recreation Commission will consider nominations and vote at its Feb. 9 meeting. See the nomination form.
Nominees must be 45 years of age or older and have a strong record of volunteerism. See the award criteria here. Nomination forms and materials can may be emailed to Valerie Samoy at valerie.samoy@pima.gov.
Weldon (Jim) Brewer, president of Green Valley's BAJA Sporting Club, was the first recipient of the award. Last year's winner was Bill Adamson, an active Green Valley cycling and trails advocate.
The award will be presented at a March 2018 Board of Supervisors meeting.
*          *          *
The Pima County Small Business Commission continues to accept nominations for its 2017 Small Business of the Year Awards.
Urban small business and a rural small business are eligible for the awards as are Pima County-based nonprofit corporations that are exempt from federal income taxes.
Nominees for the urban small business winner must be from within the Tucson city limits. Nonprofit nominees must provide assistance to small businesses through employment training, workforce development, job placement, counseling and referrals.
Nominees for the rural small business must be from a rural or small community, or any municipality outside the city of Tucson.
Award winners will be recognized during a Pima County Board of Supervisors meeting in early 2018. The date of the meeting will be determined later.
Each Small Business Award winner will receive a $500 prize.  Nominees must:
Be located in Pima County (may be a branch or division of a larger company)
Have manager or owner who lives in Pima County
Employ fewer than 100 employees
Have been in operation for two or more years
Nomination forms can be downloaded from the county's Small Business Commission webpage. Completed nomination forms and support material must be submitted by mail, fax or email by 5 p.m. Jan. 12, 2018 to:
Aurora Hernandez, Project Assistant
Pima County Small Business Commission
130 W. Congress, Suite 505
Tucson, AZ 85701
E-mail: aurora.hernandez@pima.gov
Phone: 520-724-7356
Fax: 520-724-7358