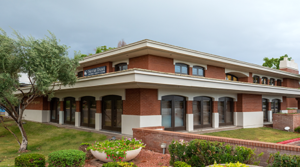 PHOENIX, ARIZONA – Notre Dame Federal Credit Union (Notre Dame FCU), a full-service not-for-profit financial cooperative serving members nationwide, recently opened its first location in the Valley to serve its large and growing member base. Notre Dame FCU worked with John Cerchiai, principal at Lee & Associates to search for the perfect location for their first office in the metro Phoenix area.
"We conducted a diligent valley-wide search from northeast Phoenix to Tempe to find the ideal location for their first loan production office. Eventually choosing a convenient central location at Park Place just south of Camelback on 32nd Street," shared Cerchiai.
Based on the number of Notre Dame FCU members already residing in the state, the decision to expand to Arizona was an easy one for the credit union to make.
"Interest in Notre Dame FCU opening a local office became so great that the decision to open a Phoenix office actually made itself," said Thomas J Gryp, President/CEO of Notre Dame FCU.
Gryp continued, "Utilizing the robust local network of shared credit union branches and ATMs, coupled with our innovative and disruptive products, Notre Dame FCU will have an immediate impact helping everyday folks as well as businesses and non-profits."
Gryp also said the credit union intends to continue its local expansion by opening traditional branches throughout the area, as opportunities present themselves.
"When that time comes," Gryp concluded, "We will again partner with John Cerchiai and Lee & Associates to ensure a smooth process."
For more information on this property, contact John Cerchiai at 602-954-3763 or Stephanie Schrock at 574-400-4996.