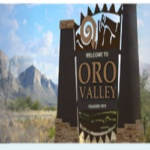 ORO VALLEY, ARIZONA – This month's Oro Valley's Economic Development update reports the following:
El Conquistador Executive Plaza at 10195 N. Oracle Road has Fairway Mortgage newly under construction that will join Oracle Family Dental and others there.
Innovation Park at 12315 N. Vistoso Park Drive/Oro Valley Hospital has a C of O for Desert Cardiology.
Mercado del Rio at 475 E. Vuelta Caminata del Rio/ Imagen Salon & Spa there is a C of O for Oro Valley Internal Medicine.
At Placita de Oro, 11941 N. 1st Ave./Ace Hardware, Dennis Sage Home Entertainment, Inc. another C of O.
Plaza Escondida  at 7848 N. Oracle Road/Trader Joe's Plaza has Club Pilates with new construction
Rooney Ranch, 10555 N. Oracle Road/Target Center has Which Wich Superior Sandwiches shop C of O.
Simpleview at 8950 N. Oracle Road has another new C of O
Suffolk Plaza at 7770 N. Oracle Road)/Southwest Kitchen and Bath, there are two C of O for The Grief & Wellness Group and Tucson Cactus and Koi.
Sun Center, 7435 N. Oracle Road/Greater Oro Valley Chamber of Commerce there's a new C of O for Your Income Tax Pros
Total May 2018 Residential Permits is 28, with no May  2018 Commercial Permits reported.
See Oro Valley Economic Development Commercial Project Status Report here.