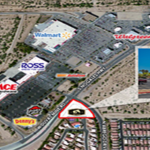 SimonCRE (Joshua Simon, principal) has broken ground on its latest Pet Club store at 2585 N Abrego Drive in Sahuarita. The one acre pad sold for $675,000 ($15 PSF) to SimonCRE of Scottsdale for construction of a 10,450-square-foot Pet Club Feed and Tack Store.
The improved lot is located off Interstate 19 at the southwest corner of Abrego Drive and Duval Mine Road / Old Nogales Hwy, across the street from Madera Marketplace that includes retailers such as Walmart Supercenter, Big Lots, Big 5, Ross, AutoZone, Walgreens, Carl's Jr., Bank of America, Wells Fargo and more. This ideal location will serve pet lovers from Green Valley, Tucson and Sahuarita.
Pet Club will be the only retailer at this corner and is scheduled for completion by year end. The property was block platted for commercial development as a portion of La Joya Verde subdivision.
The seller was Bob Baker of Sonoran Ventures Brokerage of Tucson who represented himself in the sale. SimonCRE was also self-represented.
To learn more Baker should be contacted at 520.320.9990 and Simon can be reached at 480.292.8357.
For additional information, login to reference RED Comp #2988.
Contact Karen Schutte at REDailyNews@outlook.com or 520.877.2656; On Twitter: @REDailyNews and on Facebook: https://www.facebook.com/REDailyNews