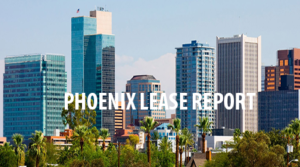 The following commercial leases were reported to the Real Estate Daily News for the Phoenix Lease Report from July 5 thru 8, 2016
INDUSTRIAL - 6200 WEST VAN BUREN ST., PHOENIX
OHL leased 295,695-square-feet at 10 West Logistics Center, located on the northwest corner of 59th Avenue and Van Buren Street in Phoenix. 10 West Logistics Center is an 80 acre Class A master planned bulk distribution business park that will consists of over 1.3 million – square-feet at full build-out. Centered in Southwest Phoenix the lease transaction was handled by Andy Markham, SIOR, Will Strong and Mike Haenel of Cushman & Wakefield in Phoenix.
RETAIL – 20924 N. JOHN WAYNE PKWY., MARICOPA
NAI Horizon negotiated a long-term lease on behalf of the tenant, Planet Fitness, at 20924 N. John Wayne Parkway in Maricopa, AZ. The NAI retail properties team of Senior Vice President Chris Gerow, Senior Vice President Shelby Tworek, Vice President Gabe Ortega, and Retail Specialist Patrick Anthon represented PF Maricopa City LLC in the transaction totaling $3.417 million.  "Planet Fitness has been interested in a location in Maricopa for a couple of years. This site, next to one of the highest grossing Fry's in the state, was a natural fit," Gerow said. "The developer, Vintage Partners, understood our requirements and made the process easy. It was a great team with which to work. Planet Fitness is excited about opening early next year in Maricopa."  The landlord, VP Edison 15 LLC, was represented by Ryan Leavitt and Brad Douglass with Cushman & Wakefield.
RETAIL – 3765 S. GILBERT RD., GILBERT
Brian & Tom Woods of Colliers International represented Vestar on a 10-year lease with My Pie Pizza Your Way at Crossroads Towne Center 3765 S. Gilbert Road #103, Gilbert, AZ, 85234 for 1,750 Square Feet.  Chris Osborn and Ryan Moroney of Newmark Grubb Knight Frank represented the Tenant.  Signed in June 2016.
RETAIL – 288 E. GREENWAY PKWY., PHOENIX
Brian & Tom Woods of Colliers International represented Nexus Development on a 5-year lease with Discount Nutrition at Bell Towne Plaza 288 E. Greenway Parkway #104, Phoenix, AZ, 85022 for 1,879-square-feet.  Scott Spier of Eisenberg Company represented the Tenant.  Signed in June 2016.