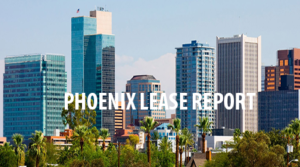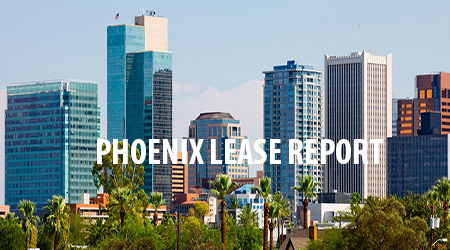 The following commercial leases were reported to the Real Estate Daily News for the Phoenix Lease Report from September 26 thru 30, 2016
WFG National Title Insurance signs 6,058 SF lease at 2777 E. Camelback Building
PHOENIX, AZ – JLL Vice President Chris Latvaaho, Managing Director John Bonnell and Senior Vice President Brett Abramson represented property owner DRA Advisors/Fountainhead Equity Partners. Michael Stone of The Stone Group represented WFG, a national provider of premium title insurance and settlement services to the real estate and mortgage industry. As of Q1 2016, WFG was the fastest growing national title underwriter and the nation's sixth largest provider of title insurance.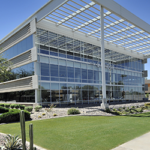 "2777 is perfect for forward-thinking companies like WFG who are looking for unique, modern, flexible space that differentiates itself from the submarket's mega office complexes and towers," said Latvaaho. "With this property, tenants get a one-of-a-kind infill location without compromising environment, infrastructure or amenities."
Totaling 104,618-square-feet, the 2777 building sits at the southwest corner of 28th Street and Camelback Road, in the heart of the prestigious Camelback Corridor. The building offers 36,000-square-foot floorplates, with contemporary features including 13-foot ceilings, raw concrete open space, a shared tenant conference room and surface and two-level underground parking.
WFG will relocate from 1420 E. Missouri Ave. in Phoenix into 6,058-square-feet on the ground floor at the 2777 building in November. It joins current building tenants UMB Bank, The Lavidge Company and Hill International and Avison Young.
JLL continues to market space at 2777 E. Camelback. Available suites range from 1,997-square-feet to 28,728-square-feet.
Osaka Japanese Steakhouse Leases 5,634 SF at Crossroads Towne Center
GILBERT, AZ — Brian & Tom Woods of Colliers International represented Vestar (Landlord) on a 10 year lease with Osaka Japanese Steakhouse (Tenant) at Crossroads Towne Center at 3843 S. Gilbert Road, Gilbert, AZ, 85234 for 5,635-square-feet.  Horth Hong of NAI Horizon represented the Tenant. Signed in September 2016.
ORION Represents Global Tenant in Tempe Center
TEMPE, AZ – Taiwanese brand DaYung's Tea recently leased a +1,400 square foot space in a heavily trafficked area of Tempe, Arizona. This is DaYung's first store opening in North America! Established in 2001, and having over 270 stores in Asia, DaYung's has a long history of success. It offers a healthy concept, using only natural ingredients and fresh fruit.
Judi Butterworth and Lacey Guardado of ORION Investment Real Estate represented the tenant. "We are very excited to have represented DaYung's for their first store in the North America. This hot new concept will blend in perfectly with the other new restaurants at Mill Plaza," says Butterworth and Guardado. "It will also be able to serve the huge Asian customer base, as well as the ASU student population," they concluded.
The suite is located within the newly remodeled Fry's center: Mill Plaza. The plaza includes national tenants such as Fry's Food & Drug Store, Jack in the Box, Papa Murphy's, UPS Store, hi-health, Great Clips, and a newly constructed Fry's Fuel. The center is located at a signalized intersection and is easily assessable from both Mill Avenue and Southern Avenue, which has a combined traffic count of ±61,670 vehicles per day. Situated in the heart of Tempe, with ASU's main campus approximately two miles to the north, tenants do strong business out of this location.
Smooth Laser Hair Removal Leases New Location in Scottsdale
SCOTTSDAEL, AZ — A lease for 825-square-feet in Sterling Plaza to Smooth Laser Hair Removal was recently consummated. The location of the property is 7127 E. Sahuaro Dr. in Scottsdale, AZ.  The owner of the center is Castor Plaza LLC.  Richard Mackay of Rein & Grossoehme Commercial Real Estate represented the tenant and Tom Kuffler of Civic Asset Management represented the owner.
Unique User Comes to Granada Plaza, Chandler, Arizona
CHANDLER, AZ – The Trigger Guy Gunsmithing & Sales recently leased an 800-square- foot space in Granada Plaza, located on the southwest hard corner of Alma School Road and Galveston Street. The Trigger Guy provides gunsmithing services, including repairs, modifications, total gun transformations, installing sights, scope mounting, and cleaning services. They also do custom gun work.
Judi Butterworth and Lacey Guardado of ORION Investment Real Estate represented the Owner, Granada Plaza, LLC, in leasing up this space. The Owner remarked, "We have had these spaces on the market for over two years, with minimal activity. We hired ORION's Judi Butterworth and Lacey Guardado, and in less than three months we already have our first lease signed, plus prospects for the last space available. More importantly, they made excellent suggestions on how to enhance the center, and even helped us create a new lease."
The last suite, #14, is available in Granada Plaza. It faces Alma School Road (23,885 VPD) and consists of 1,400-square-feet.