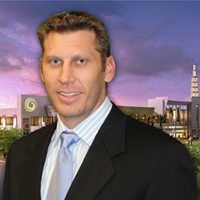 The Casa Grande Dispatch is reporting AZ Sourcing President and Chief Operating Officer Jeremy Schoenfelder resigned last week. AZ Sourcing is the parent company of the PhoenixMart global trade project in Casa Grande.
A grading permit was issued last month for the 1.5 million-square-foot project, and officials expect the exterior of the main building could be completed in late 2015. PhoenixMart comprises about a quarter of a square mile that will become the North American Logistics, Trade and eCommerce City (NALTEC) as the entire AZ Sourcing facility fully develops.
More than 1,700 manufacturers and businesses are expected to have showrooms in NALTEC.
A spokesman said Schoenfelder left to pursue other opportunities. Casa Grande Deputy City Manager Larry Raines told the Dispatch the resignation would not affect the timing of the project, which already has experienced delays since its inception three years ago.
Schoenfelder is the second high-level departure for the logistics and trade center in a little over a year. CRE development veteran Steve Betts, now president of Chanen Construction, was with PhoenixMart for a short stint as CEO from June to September 2013.
Schoenfelder took over for Steve Betts who resigned in 2013.
The now-under construction international trade showcase in Casa Grande is considering its options to replace the leader of the fledgling project near Interstate 10 on Florence Highway. The Dispatch says PhoenixMart Chief Operating Office Doug Singer will fill in for Schoenfelder until a replacement is named.