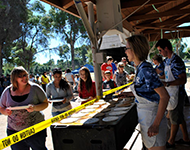 Cushman & Wakefield | PICOR will mix, pour, flip and serve as many pancakes as you can eat Sunday, October 12th from 8 am – 1 pm at Ramada #1 in Reid Park, near the doggie park.
Proceeds from this annual fundraiser go directly back into our community. The goal is to distribute funds collected from generous clients, colleagues, vendors and community friends to those Tucson-area charities benefiting disadvantaged youth, where a modest grant will make a significant difference. Often, these are programs and organizations that may receive less public support than their counterparts.
This year's 2014 October Pancake Feed Organizer is Tom Neiman who told us the tradition is now in its 52nd year and may be the oldest fundraiser in Tucson.
For 32 years, a Tucson-based Kiwanis Club sponsored a fall event raising in excess of $300,000 for Tucson charities. In 1994, when the club ceased to operate, C&W | PICOR formed the PICOR Charitable Foundation to enable this endeavor to continue. Through its signature October pancake breakfast event, the Foundation institutionalizes C&W | PICOR's commitment to our community.
Beginning in 2013, C&W | Picor established a special STEM-focused grant in honor of Ken Nickel (1924-2013). Ken was a founding member of PICOR in 1985, as well as the hardest-working member of the Foundation board and pancake breakfast team in its early years.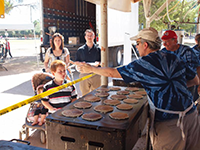 It's an entirely employee-run effort. Company members have raised over $580,000 since the Foundation's inception with 100% of the proceeds distributed to select organizations. In-kind donations are made by C&W | PICOR and other corporate supporters in the community to cover all overhead costs and allow 100% of the proceeds to benefit the youth of our community.
In addition to pancakes, Starbucks will provide coffee and hot chocolate and Shamrock Foods will be there with a refrigerated truck for perishables. Enterprise Truck Rental and Pro EM make sure there are enough tables, chairs for everyone as well as portable hot water for dish washing in the park.
Flipping on grill #1 this year will be Mike Hammond, President, while Barbi Reuter, COO of the company, will be on grill #2. As in past years, there will also be the "flippin' Rookies" who make an appearance anytime someone needs a break to assure there is always copious amounts of pancakes.
Neiman says, "The event is also a cultural relationship builder for the company, everyone gets involved to make it a success. We welcome the public too. This year, we've already raised $45,000 through ticket pre-sales." In 2013, there were 32 different organizations funded. "We are grateful for the continued support of the many individuals and businesses whose donations make this effort possible," Neiman said.
Visit https://picor.com/picor-charitable-foundation to find out more and to learn how you can participate. Your financial support as well as applications for 2014 grants from qualifying charities are welcome.