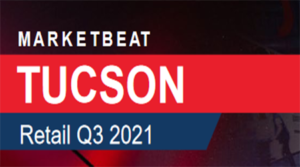 TUCSON, ARIZONA -- Cushman & Wakefield | PICOR is reporting that in the third quarter 2021, the Tucson market recorded employment of 384,600 jobs with a positive outlook, up 4.3% over the third quarter 2020. The unemployment rate improved from 7.9% in the third quarter 2020 down to 6.5%. Median household income in Tucson remains steady year-over-year (YOY) at $57,600, in line with national figures. Population grew 0.9% YOY with a positive outlook, more than double the national gain of 0.4%. Due to pandemic-related supply chain issues, housing permits decreased 14.1% YOY in Tucson but remain up 28% year-to-date. Housing demand is stronger in recent years partly due to migration, but supply constraints limit the number of houses sold. Arizona is experiencing a very healthy recovery in retail sales, up 17.4% YOY even while factoring in a dip in July of this year.

SUPPLY & DEMAND:
The vacancy rate for Tucson held steady at 6.2% in the third quarter of 2021, with expansion in the quick-serve restaurant (QSR) format. QSR growth was primarily within corporate franchises like McDonald's, Taco Bell, Starbucks, Chipotle, and Subway, which typically contain an 1,800 to 2,800 square feet (sf) footprint optimized for takeout and delivery. Locally operated independent restaurant growth was primarily driven by second-generation space from restaurants that did not survive the pandemic.
The largest sale transaction in the third quarter was the 278,719 sf La Encantada retail center at Skyline Drive & Campbell Avenue, purchased by local investors. High construction demand this quarter was hampered by significant cost increases and understaffing, with extreme prices as the sticking point preventing some deals from moving forward. Discount stores like Dollar General and Dollar Tree performed well. Grocery and other retailers increased focus on delivery and mobile order pickup as the new growth area. Shopping centers continued to embrace adaptive reuse with fitness centers, medical care, and dental care offices.
PRICING:
Lease rates in Tucson remained steady at $15.48 per square foot. Retail investors began speculating on commercial property in a similar manner to the 1970s as the market appears to be heading into an inflationary cycle. Internet-proof properties that include Grocery stores, restaurants, medical services and/or salon type service businesses are especially attractive. With interest rates remaining low and prices increasing, those who purchase fixed assets at fixed interest rates will likely see rent increases in the future.