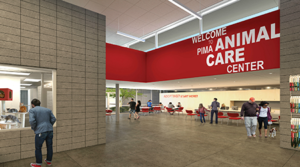 Free adult dog adoptions this week, and puppy and kitten baby shower on Saturday
PIMA COUNTY –  Pima Animal Care Center officials announced yesterday they have an overcrowding crisis and no kennel space for incoming dogs. Since May 1, PACC has taken in 488 dogs and 268 cats, and with breeding season in full swing, multiple litters of puppies and kittens who need around-the-clock-care are entering the shelter each day. The shelter desperately needs adopters and fosters.
"We have hundreds of adoptable dogs and cats sitting in kennels and cages waiting for families, and other pets, like orphaned puppies and kittens, who simply need a temporary foster home in order to survive," said Karen Hollish, PACC director of development and marketing. "The situation at PACC is increasingly dire, as there is not one single space to put an incoming dog right now."
To help make kennel space and save lives, PACC is offering free adoptions for all adult dogs (age 6 months and up) through Sunday, May 21. All PACC dogs come spayed or neutered, microchipped, vaccinated, and with a vet visit voucher, too. Adopters will only have to pay a $17 dog license fee.
Community members who may not be ready to adopt but want to help PACC's overcrowding situation should attend PACC's Puppy and Kitten Baby Shower scheduled from 8 to 10 a.m. Saturday, May 20 at the shelter, 4000 N. Silverbell Road, where they can learn more about fostering opportunities.
"The shelter environment is not ideal for vulnerable puppies and kittens who need a safe place with regular feedings to grow healthy and strong," said Ellie Beaubien, PACC foster coordinator.
At the baby shower, Beaubien and volunteers will have information tables set up and foster applications ready, making it easy for new fosters to sign up on the spot to help puppies and kittens, injured pets, or dogs who need a break from kennel life. Foster families will be able to take home pets that day into their homes.
PACC will provide a light breakfast for all visitors. In addition, Central Pet will have "baby registry" items on sale for people to purchase and donate to the foster program.
"Our goal is to recruit 100 new foster families, who we need now more than ever," Beaubien said.
PACC's adoptable pets can be viewed at pima.gov/animalcare. Residents who wish to foster do not have to wait until Saturday; they can fill out a short application here: pima.gov/foster.