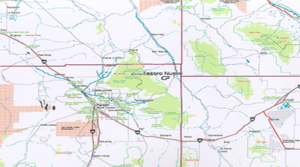 PIMA COUNTY — The Pima County Board of Supervisors at its June 19 meeting voted 3-2 to acquire more than 3,283 acres of riparian habitat on the eastern slopes of the Catalina Mountains for future conservation.
The Tesoro Nueve Ranch includes 1,476 acres of land and 1,807 acres of state grazing leases. The ranch, located in the San Pedro River watershed, is surrounded by conservation properties owned by the County and its Regional Flood Control District (RFCD) as well as the Coronado National Forest.
The total purchase price is $1.55 million ($457 per acre), with $488,000 to be paid by the RFCD and the balance of $1.062 million to be paid by the County Administrator's Special Revenue Fund at closing, scheduled to occur before August 17. That fund includes $1 million received from a 2014 Kinder Morgan mitigation agreement and can't be used for purposes other than purchasing land for conservation. NO general funds will be used to acquire the property.
The property will be designated as part of the county parks system and managed by the County's Natural Resources, Parks and Recreation Department. The land is an important riparian habitat, with springs and streams that provide home for vulnerable and threatened fish, frogs, birds and other wildlife.
"With this acquisition, the entire watershed of Buehman Canyon, an important Sky Island drainage, will be conservation status, protecting a major wildlife linkage to the San Pedro River and beyond," said Julia Fonseca, environmental planning manager with Pima County's Office of Sustainability and Conservation. Brian Powell, also with Sustainability and Conservation, added that "the property contains one of the most important springs in the Santa Catalina and Rincon mountains area, and that spring supports some of the largest populations of native fishes and frogs in our area.
The Ranch is ideally situated to complete the reserve system in the San Pedro River watershed, which is anchored by Pima County's A7, Six Bar and M Diamond ranches, and complemented by the existing Regional Flood Control District – owned Buehman Canyon Preserve. Because the acquisition boundaries run along the middle of Buehman Canyon, acquiring this property will greatly simplify – and make consistent – the management of this rare flowing stream.
The property was part of the estate of Katheryne B Willock, a noted archeologist and a generous contributor to the University of Arizona Libraries, who passed away in January 2017.