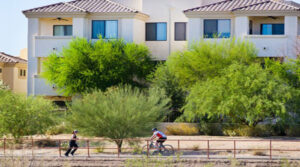 PIMA COUNTY, Feb. 6, 2023 — Pima County is seeking applications for the development or preservation of affordable housing. Applications are open to qualified nonprofit and for-profit developers, builders, government agencies and partnerships.
On Oct. 18, the Pima County Board of Supervisors allocated $5 million for affordable housing, $4 million of which has been budgeted to offer gap funding for affordable housing development and preservation.
The Pima County Community and Workforce Development Department is soliciting the funding proposals, which are due March 1. They will be reviewed and scored by staff, presented to the Pima County Regional Affordable Housing Commission for input and submitted to the board for final approval.
The application, as well as a summary of the application and an application guide, is available on Pima County's website.
The proposals will be evaluated based on how County gap funding can be used to create the highest number of affordable units while best leveraging other public and private resources.