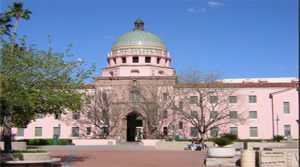 PIMA COUNTY – The Pima County Board of Supervisors May 21 voted unanimously to set the Fiscal Year 2020 Budget limit and tentatively approve the county budget. State law requires counties to set a budget ceiling before adopting a final budget. The tentatively adopted budget spending limit is $1,310,817,540. The board may still make changes to the budget at final budget adoption, scheduled for June 18, but those changes cannot raise the spending limit set Tuesday.
As part of the budget adoption process, the board votes on several separate property tax levies and budgets that comprise the total county tax levy, tax rates and budget. The board tentatively approved all of the budgets and tax levies unanimously. They are the County Primary, Regional Flood Control District, the Library District, and the County's Debt Service tax levies. The board also tentatively approved the budget and tax rates for the Stadium District (Kino Sports Complex) and the tax rates for about two dozen improvement districts and the Rocking K Community Facilities District.
Highlights of the tentative budget include cutting the primary property tax rate for the second year in a row, a significant increase in road repair funding, two new libraries, a new system for funding capital improvements, salary adjustments for eligible County employees and higher starting salaries for Sheriff's deputies.
You can find a link to the tentative budget and other documents associated with budget preparation here: https://webcms.pima.gov/cms/One.aspx?portalId=169&pageId=36498
The County Administrator's previous release about his recommended budget for FY 2020: https://webcms.pima.gov/cms/One.aspx?portalId=169&pageId=483693