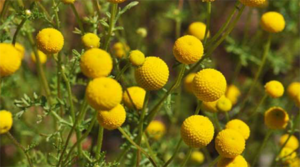 PIMA COUNTY – Staff from several Pima County departments are partnering with the Arizona Native Plant Society to lead the fight against an invasive plant that's already overtaken wide swaths of Maricopa County.
Oncosiphon piluliferum, more commonly known as Stinknet, is more attractive than its name, bearing yellow globe-like flowers on green stalks. Also known as globe chamomile, the native of South Africa is considered invasive and will soon be classified as an Arizona noxious weed.
"Don't be fooled because it's cute," warned Jessie Byrd, manager of Pima County's Native Plant Nursery and president of the Arizona Native Plant Society. "An ugly sounding name is more appropriate for this terrible weed. It has completely taken over Phoenix, and we want to be proactive so that this doesn't become yet another invasive weed taking over Tucson."
In Phoenix, Stinknet infested the Ben Avery Game and Fish facility in 2005, but wasn't treated. It went on to spread to parts of the Tonto National Forest, along parts of I-17 and I-10 and elsewhere. In Tucson, Stinknet began proliferating in 2015 at the west end of Prince Road, then spread across the road to The Chuck Huckelberry Loop between the UA Farm and the level of Rudasill Road.
The winter season invasive plant favors wet weather when it germinates, grows and disperses. The round flower plant has dominated the landscape, outcompeting native plants in the open desert, causing people to have allergic reactions from its leaves and abundant pollen.
In efforts to be proactive, Pima County's Regional Flood Control District has begun working with Arizona Native Plant Society volunteers to kill a small outbreak of Stinknet this spring near 1-10 and Prince Road. The County's Office of Sustainability and Conservation will be working with staff from the County's Natural Resources, Parks and Recreation Department to ID and eradicate the plant along The Loop.
Staff from Pima County and the Arizona Native Plant Society plan to offer field Stinknet identification sessions at 10 a.m. and 2 p.m. this Thursday, Dec. 12, and again on Thursday, Dec. 19. Meet at the west end of Prince Road and turn north at the first road to the north and adjacent to the Inland Kenworth business property.