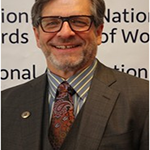 PIMA COUNTY, Arizona – The media is invited to hear a rare and unique perspective on the local labor market and Pima County's place in the national economy at a special meeting of the Pima County Workforce Investment Board (WIB) scheduled from 9 a.m to 1 p.m. on Friday, Nov. 8 at Pima Community College's (PCC) Downtown Campus, 1255 N. Stone Avenue. This month, the WIB welcomes the National Association of Workforce Boards' Ron Painter, who will speak about the future of labor in the United States and the role of federal legislation in improving job prospects of American citizens and meeting the needs of U.S. businesses as the 21st Century progresses. Painter,  formerly of the Enterprise Project, National Alliance of Business and U.S. Department of Labor, has served as President and CEO of the NAWB since 2009.
"Ron's uniquely situated to see what may be coming in the U.S. labor market," Pima County Community Services, Employment and Training Director Arnold Palacios said. "He travels the country to identify cutting-edge practices and programs and understand how best to spread innovative trends in human capital development. He's particularly excited about what we have going here in Southern Arizona.
Pima County District 2 Supervisor Ramón Valadez and Tucson Mayor Jonathan Rothschild will provide welcoming remarks. Additional speakers will include Palacios, Pima College Chancellor Lee Lambert (a former WIB member); and current WIB members, PCC Vice President Ian Roark and Vice Chancellor David Doré; as well as Mark Vitale of the University of Phoenix.
Event information
What: Ron Painter speaks at Pima County Workforce Investment Board
When: Friday, November 8, 9 a.m. - 1 p.m.
Where: PCC Downtown Campus, 1255 N. Stone Ave., Amethyst Room
Contact: Arnold Palacios, Director, Pima County Community Services, Employment and Training, 520-724-6742, Arnold.Palacios@pima.gov