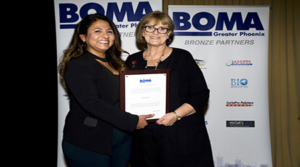 PHOENIX, ARIZ. — Karen Piper, an industry leader in property management for more than 30 years, was honored with the Lifetime Achievement Award by BOMA Greater Phoenix at its Holiday and Awards Celebration held at the Arizona Biltmore.
Piper's career includes positions at LBA Realty as a Senior Property Manager and Cushman & Wakefield as Executive Director, Client Solutions – Facilities and Property Management.
"BOMA has been so good to me," Piper said. "It's been a foundation for me for 32 years and has been a vital part of my career. I have a great appreciation for what an organization like this can be and do for those in the industry."
While at LBA, Piper oversaw a Phoenix portfolio of 4.7 million square feet of industrial and Class A office space. She spent 16 years at Cushman & Wakefield, including seven years in Asia Pacific establishing the C&W Property and Facilities Management Service line in nine countries, including China.
"Karen Piper is truly a jewel in our industry, and I am grateful for my association with her. She has been a mentor and a source of wisdom as we served together," said Darwyn Harp, General Property Manager with Hines, who took the gavel as BOMA Greater Phoenix President for 2018.
"I truly appreciate her willingness to share the benefit of her experience with anyone who would seek her counsel. I am better for having the privilege of knowing her, and the honor from BOMA is certainly well deserved," Harp said.
Member and sustainability awards presented at the event:
Property Manager of the Year: Robert Vincent III, Cordia Capital Management;
Building Engineer of the Year: Robert Bonilla, Hines;
Allied Partner of the Year: Bella Barker, Ace Building Maintenance;
Committee Member of the Year: Barker;
Committee Chair of the Year: Melissa Scott, Sunbelt Holdings;
Service to the Profession: Jayme Bartholomew, Development Services of America;
Civic Excellence Award: Bartholomew;
Helping Hand Award: Tyrel Williams, Breinholt Insurance Group;
Ougha-Chucka Award: Daniel Mazzon, Allied Universal Services;
Young Professional of the Year: Mazzon;
Kilowatt Krackdown: 3200 Central, CBRE; Portales Corporate Center II, Forum Capital; USAA, USAA Real Estate Services; Leave-Behind Plaque, 3200 Central;
Stop Drops: 2355 Camelback Center, Cushman & Wakefield; Biltmore Center II, ViaWest Group; Paradise Valley Office Park, Lincoln Property Company;
Golden Dumpster: Biltmore Center, ViaWest Group; Terra Verde, Wentworth Property Company.
Photo: Karen Piper receives the BOMA Greater Phoenix Lifetime Achievement Award from outgoing BOMA President Maricela Nunez of LBA Realty at the group's holiday and awards celebration at the Arizona Biltmore. (Photo courtesy of Roger Ottaway)