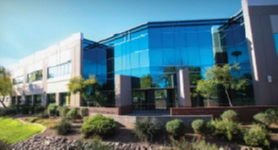 PHOENIX, AZ – Cushman & Wakefield of Arizona, Inc. negotiated a 17,998-square-foot lease for Prosper Marketplace, a peer-to-peer lending company that opened a new office at Airport Tech Center, 4127 E. Van Buren St. in Phoenix.
It is the first office outside the company's San Francisco headquarters. The Prosper platform connects people who want to borrow money with people who want to invest money, offering an alternative to traditional banking institutions.
"They initially toured over 20 locations and buildings," said Larry Downey, Vice Chairman for Cushman & Wakefield of Arizona. "Airport Tech Center gave Prosper Marketplace a central location within the city and great access to the transportation freeway corridors. This is a very functional building for them and gives them the flexibility and room to expand within the project."
Located minutes from Phoenix Sky Harbor International Airport, the new location is currently recruiting, with plans to expand to 40 employees in its first year. The office will eventually employ about 150 people.
"The Prosper platform has grown more than 400 percent over the past year, and we expect continued growth in 2014. Prosper Marketplace is excited to open a new office in Phoenix to support our growth, and we are looking forward to being part of the local business community," said Josh Tonderys, Chief Risk Officer, Prosper Marketplace.
"We are encouraged by the expansion of companies like Prosper Marketplace," said Barry Broome, president and CEO of the Greater Phoenix Economic Council. "The new jobs that will be available at the Phoenix office show a transformative shift from traditional back office jobs, providing exciting new opportunities for the existing technical talent in the region."
Downey and Curtis Chickerneo of Cushman & Wakefield represented the tenant. The landlord, Arden Realty Limited Partnership, was represented by Jerry Roberts and Corey Hawley of CBRE. Occupancy is in late July.
To learn Downey can be contacted at  (602) 229-5833 and Chickerneo at (602) 253-7900. Roberts should be reached at (602) 735-5528 and Hawley is at (602) 735-1742.