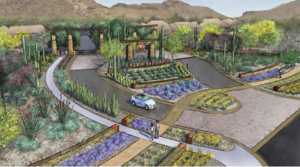 Marana, Arizona — Pulte Home Company, LLC purchased the 139-acre Lazy K Bar Ranch on April 29 from LKB Hotel, LLC. The property is comprised of 178 platted and engineered lots.
The $6,500,000 purchase is in two equal stages of 89 lots each. The property is located on Scenic Drive and Pima Farms Road in Marana. The lots vary in size from 7,000-square-feet up to 11,000-square-feet and most back up to open space and have sweeping city and mountain views.
The Lazy K Bar Ranch has a long and rich history as a southern Arizona dude ranch dating back to the 1930's and its spectacular setting has provided the backdrop for several Hollywood films. Over the past few years the Lazy K has been the subject of a controversial rezoning in the town of Marana.
The seller was represented by Randy Emerson of GRE Partners.
For more information Emerson should be reached at 520.429.4967.