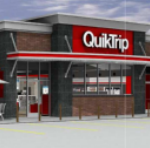 This article has been archived, please login for access or subscribe now for a free trial.
QuikTrip Corporation paid[mepr-show rules="58038"]$2.2 million ($4.79 PSF) for a 10.41 acre lot at the northeast corner of Ina Road and Star Commerce Way for development of QuikTrip #1469, a QuikTrip Travel Center. The seller was Ina Road Group of Tucson (Bill Viner and Phil Pepper). The QuikTrip Travel Center accommodates larger vehicles will be similar to that at 59th Avenue & the Freeway in Phoenix.  There is generally only one Travel Center of this type built in a market. The property address will be 5050 West Ina Road in Marana.
The deal took about 14 months, with questions involving ADOTs'  Ina / I-10 interchange project.  The widening project is to be similar to the completed ADOT project at the Twin Peaks interchange. Also, there was an issue of highway signage for the buyer that took some time to resolve. ADOT has not yet scheduled the Ina Road widening project. Zoned E in Marana, QuikTrip submitted preliminary plans for the property and signage on 11/30/2012, the project is waiting a second submittal from Quik Trip before final approval. Construction may be some time off, as ADOT finishes the four lane widening at the Prince Road interchange scheduled for completion late 2013, and then moves on to Ruthrauff Road interchange widening  before reaching Ina Road.
QuikTrip Corporation is a privately held company headquartered in Tulsa, Oklahoma. Founded in 1958, QuikTrip has grown to a more than $10 billion company with 660+ stores in eleven states. Those revenues place QuikTrip high on the Forbes listing of largest privately held companies. QuikTrip's strategy is to be the dominant convenience/gasoline retailer in each market and to reach that level not through sheer numbers of stores, but through key, high-volume locations. With nearly 13,000 employees, Fortune magazine has ranked QuikTrip high on the list of 'Best Companies To Work For' in the last ten years. QuikTrip also gives back to the communities it serves, donating 5% of net profits to charitable organizations.
QuikTrip currently operates 17 locations in the Tucson area. All QuikTrip stores are company owned – not franchises. The company leases back its stores with typical triple net lease terms of 15 year primary term and seven (7) 5-year options, at annual rate of return 6.75% - 15 year primary term (fixed) and .25 basis increases each option term.
Rob Glaser and Rob Tomlinson of Cushman & Wakefield / Picor Commercial Real Estate Services in Tucson represented the seller. Larry and Will Lewis of Landwire in Tucson represented QuikTrip in the transaction.
Contact JD Dudley, QuikTrip Surplus Real Estate Manager 800-206-4036 for information on properties available in Tucson. Glaser can be reached at (520) 546-2707 and Tomlinson can be contacted at (520) 546-2757. Lewis can be reached at (520) 250-0602.
[/mepr-show]
Login in for additional information.
[ismember] QuikTrip offers a finder fee to brokers. Sale date was 6/19/2013. Exact sale price was $2,172,000. Escrow opened April 2012 and took a long time, not due to any lack of cooperation by all the parties, but waiting on ADOT plans and an sign easement that was granted along the highway.[/ismember]