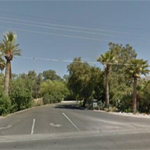 Historic Rancho Los Amigos, a mobile-home park that began as a citrus grove, at 600 West Orange Grove Road in Tucson was bought by Alta Vista Communities (Roger Karber, manager) recently for $4.8 million ($282,353 per acre). The property sold for land value and is located just west of the intersection of Orange Grove and Oracle Roads. Approximately 10 acres of the total 17 acres is zoned for retail, office or other commercial use.
The seller was Rancho Los Amigos MHP, LLC of Tucson (James Horvath of Town West Realty, manager).
Alta Vista plans to develop a 232-unit rental community with eight-units in each two story buildings, ranging from one- to three-bedrooms. The units will have over-sized patios and balconies.
The company has contracted with Mesa-based management company, NTH Property Management, to help transition residents into different mobile-home parks.
With 70 tenants in the 108-unit park when it sold, residents were recently given the required 180-day notice for redevelopment and an August 1 deadline to move, said manager Neal Haney, of NTH.
Haney, with over 35-years of experience in mobile home park management, has probably more experience than anyone in the state with relocation of mobile home park residents.
He explained to us, the personal property tax paid on mobile homes each year has a portion build into it that goes to a 'relocation fund' established since the 1970s. This state fund helps pay the costs associated with relocating mobile homes to another park, or to private property when redevelopment occurs.
The fund will pay residents up to $5,000 for the move and installation of a single-wide and $10,000 for a double-wide mobile home, Haney said. Tenants must show proof of ownership of the mobile home to be eligible for assistance. People renting mobile homes are not eligible.
He said one meeting was held to explain the program and give the forms needed to file with the State of Arizona and a second meeting with residents and Haney to answer questions. Haney said they will start to bring in other park operators that have vacancies to discuss their park amenities at the next step.
Haney said they work to make the stress of moving as easy as possible for the residents and was pleased say that ten of the residents had already indicated they have made moving arrangements.
There is a lot of history that goes along with this old ranch. It was one of the first developed ranches in the Tucson area, and it eventually became the heart of the citrus industry in Tucson. Rancho Los Amigos has been a quiet desert oasis enjoy in Tucson since the 1920s,.
The redevelopment can be done with existing zoning, Karber told us. "The infrastructure there is very old and will have to be removed. It was put in place without much planning back in its day. The long driveway onto the property will be kept in place, as will the lush vegetation," said Karber.
Karber added, "The project is kind of a deviation from our rental casitas, but works well for this property. We like the country/rural feel of the property and the amazing palm trees, but it is in poor condition and in need of updating with modern amenities." The name of the new project has not been chosen yet. "I like the name and the history of the property," he said. "And, we want to put some of the citrus trees back and replicate the historic citrus grove atmosphere."
If all goes as planned, units will be available for move-in by late spring or summer 2017.
For additional information, Neal Haney should be contacted at (480) 649-3531.
To learn more, see RED Comp #3596.