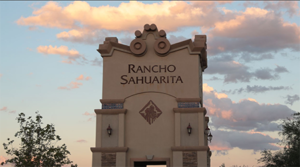 Sahuarita, November 2, 2023: Rancho Sahuarita has been honored with the prestigious Arizona Daily Star 2023 Readers' Choice Award for Best Master-Planned Community.
"This incredible recognition is a testament to the warmth, spirit, and unity of our community. It's our residents' active involvement and vibrant presence that makes us shine even brighter," said Jeremy Sharpe, Managing Partner of Rancho Sahuarita.
Rancho Sahuarita was founded over 20 years ago with the vision to offer its residents an engaging and active lifestyle where they can create a better life; where everything is "all in your backyard".
That vision holds even more true to this day, with the master planned community offering current and new residents, from kids and teens, to adults and retirees' access to diverse programming which includes everything from health and wellness classes and Happy Hours to Story Time for Tots and holiday celebrations for the whole family.  This is why Rancho Sahuarita continues to thrive, consistently delivering on its original vision and promise to residents.
The community continues to grow, with its neighborhoods of Entrada Del Rio, Entrada La Coraza and Entrada Del Pueblo offering stunning new home options from award-winning builders. Over the next several years, residents will also see the continued growth and development of commercial and service offerings in the Sahuarita Town Center.
Quick Facts:
Rancho Sahuarita creates a highly amenitized lifestyle for the community's 18,000 residents. Residents have the opportunity to experience a variety of events (220+/year), classes, clubs, and programs (45+/week), and enjoy amenities like parks, pools, and the largest private splash park in Southern Arizona. Amenity highlights include:
Club Rancho Sahuarita designed with a full Fitness Center, multi-use spaces, an Activities Lawn, mini put-put course, sport courts, Kids Club facility, demonstration kitchen, and Splash Park and pools. Club Rancho Sahuarita is located directly adjacent the stunning Sahuarita Lake Park.
9 Great Schools in Town in the award-winning Sahuarita Unified School District.
25+ miles of paved walking and biking trails.
Various parks and spacious green spaces throughout the neighborhoods.
Parque Del Rio and Parque Del Presidio neighborhood amenities complete with pools, basketball courts and more.
Flamingo Splash Pad and Armed Forces Tribute (at Parque Del Rio).
The community is also home to the Rancho Sahuarita Marketplace and the ever-growing Sahuarita Town Center, both of which include commercial spaces available for leasing or sale. The Marketplace currently features a variety of retail, medical, restaurant, and other service providers. A full municipal complex, educational facilities, a fire station, and multiple churches can be found in the Sahuarita Town Center.
 About Rancho Sahuarita:
Opened in 2001 with 13 neighborhoods between 6 different builders and has been historically ranked among the best-selling master planned communities in the country (#5 in the county in 2008, #7 in the country in 2009, and #1 in Arizona in 2008).
Rancho Sahuarita is the most highly amenitized community in Southern Arizona. It includes three pools and the area's largest private Splash Park, a Flamingo Splash Pad, Armed Forces Tribute, a 30,000 square foot Clubhouse complete with fitness center, and multiple parks and trails throughout the community.