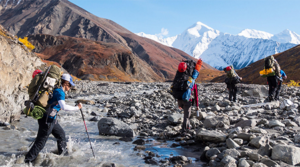 Apply by July 7, 2019, for October Big Bend trek
TUCSON, Ariz. — Disabled veterans in Alabama, Arizona, New Mexico, Oklahoma and Texas can now apply for the 2019 No Barriers Warriors Big Bend Veteran Wilderness Expedition funded by Raytheon Company (NYSE: RTN). In October, the non-profit No Barriers USA will lead a team of 10 disabled veterans on a nine-day journey of discoveries and challenges in Big Bend National Park, Texas and on the Rio Grande River. Disabled veterans from all military branches and eras of service can apply.
To be considered for this year's expedition, disabled veterans should apply by July 7, 2019, through the No Barriers Warriors website. Once selected, team members must train for the journey and commit to the nine-day adventure. Participants pay nothing for the expedition; Raytheon underwrites the entire trip.
"No Barriers expeditions are truly transformative experiences," said Jon Kasle, vice president of Communications for Raytheon Missile Systems. "This year's trek is an amazing opportunity for veterans to challenge themselves and bond with fellow veterans in one of the country's most remote and beautiful regions."
By combining comprehensive curriculum with physically challenging activities such as long-distance hiking and rafting, disabled veterans gain new strategies and skills that help them confront and overcome barriers. Participants take part in online coursework before and after the expedition to internalize the "No Barriers Life" and receive continual support throughout all phases of the expedition.
This is the sixth year Raytheon and No Barriers have partnered for a veteran wilderness expedition. Previous journeys took teams to the Grand Canyon in Arizona, Rocky Mountains in Colorado and the Wind River Range in Wyoming.