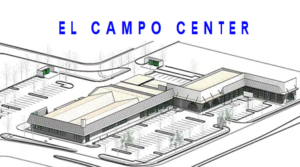 TUCSON, AZ - El Campo Center, anchored by Food City and located on the southwest corner of 22nd Street and Country Club Road, has commenced renovation. Commercial Retail Advisors, LLC is working to bring El Campo Center back to life with a complete renovation and redevelopment of the shopping center. The work is slated to be finished by July 2019.
Steve Shell is the project's architect. MW Morrissey Construction is the general contractor. The team broke ground on this project on April 4, 2019.
Food City will be remodeling their store. The project will also include the renovation of the old El Campo Tire Store into 10,823-square-feet of new retail shop space. Metro PCS by Sprint has committed to one of the shops. There are several other retailers in discussions with the project's real estate broker, Craig Finfrock of Commercial Retail Advisors, LLC.
For more information, please contact Craig Finfrock of Commercial Retail Advisors at (520) 290-3200 or visit their website at www.cradvisorsllc.com
More information on this property can be found on the RED Listing Registry