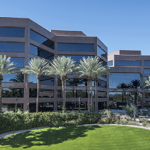 JLL earns leasing assignment for Two-Building project at Fountainhead Corporate Park
PHOENIX, Arizona – The Phoenix office of JLL has earned the leasing assignment for Park Garden and Park Bridge at Fountainhead, a recently renovated, two-building Class A office campus positioned to meet high demand for the Airport and Tempe markets, but at a fraction of nearby rental rates.
JLL Managing Director John Bonnell, Senior Vice President Brett Abramson, Vice President Chris Latvaaho and Associate Joe Charles have been awarded the Fountainhead leasing assignment by property owner Cypress Office Properties and Harbert Management Corporation.J
"In the past 12 months, Phoenix has ranked second in the nation – behind only Chicago – for total office space absorption," said Bonnell. "The Fountainhead campus is owned and meticulously managed by a very strong ownership group. This makes it a prime option for tenants seeking modern, high-amenity space that is only minutes from downtown Tempe and Phoenix, but at a price point that is as much as 40 percent lower than nearby, north Tempe office rents."
Park Bridge and Park Garden are located at 1501 and 1620 W. Fountainhead Pkwy. in Tempe, with direct frontage to I-10 and almost equidistant from Sky Harbor International Airport and downtown Tempe. Park Bridge at Fountainhead totals six stories and 164,785 square feet of lakefront, Class A office space. Park Garden at Fountainhead totals six stories and 127,226 square feet of Class A office space with frontage on I-10.
Both buildings were renovated in 2016 and now feature upgraded lobbies, new outdoor tenant areas, enhanced landscaping and spec suites. "These are notable enhancements that speak to companies needing a polished, Class A, central office location but who don't need to pay north Tempe prices for their space," said Abramson.
Additional on-site amenities at the Fountainhead campus include Lucy's Fountainhead Café and an extensive park-like campus with serenity areas, ponds, waterfalls and fountains. The buildings at Fountainhead offer numerous points of ingress and egress, and are within minutes of downtown Phoenix, downtown Tempe, Arizona State University, Arizona Mills Mall and Sky Harbor International Airport.
The property is currently 69 percent occupied by tenants including State Farm, Centene, Provision and Heartland.