Apartment List is reporting Tucson rents declined over the past month. With only two months left in 2022, renters will get some welcomed relief. After a year and a half of record-setting rent hikes, the market appears to be turning a corner. The national median rent decreased by 0.7% in October, the second straight monthly decline and the largest single-month dip in the history of our index, going back to 2017. The cool down is widespread, with rents down this month in 89 of the nation's 100 largest cities. In this report, Apartment List evaluates trends in the Tucson rental market, including comparisons to cities throughout the state and nation.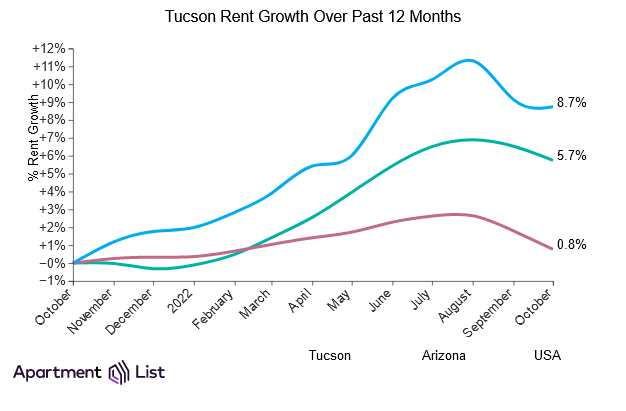 Tucson rents declined significantly over the past month
Tucson rents have declined 0.4% over the past month, but are up sharply by 8.7% in comparison to the same time last year. Currently, median rents in Tucson stand at $995 for a one-bedroom apartment and $1,309 for a two-bedroom. This is the second straight month that the city has seen rent decreases after an increase in August. Tucson's year-over-year rent growth leads the state average of 0.8%, as well as the national average of 5.7%.

Rents falling across cities in Arizona
While rent prices have increased in Tucson over the past year, other cities across the state are seeing the opposite trend. Rents have fallen in 1 of the largest 10 cities that we have data for in Arizona. The state as a whole logged rent growth of 0.8% over the past year. Here's a look at how rents compare across some of the largest cities in the state.
Looking throughout the state, Scottsdale is the most expensive of all Arizona's major cities, with a median two-bedroom rent of $1,833; of the 10 largest Arizona cities that we have data for, 6 have seen rents fall year-over-year, with Scottsdale experiencing the fastest decline (-3.9%).
Tucson and Glendale have both experienced year-over-year growth above the state average (8.7% and 1.9%, respectively).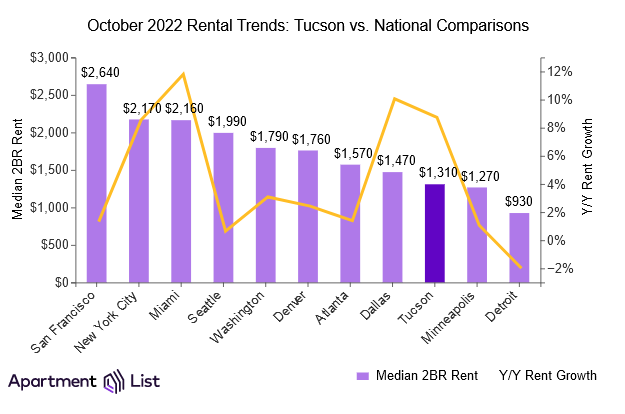 Tucson rents more affordable than many comparable cities nationwide
As rents have increased sharply in Tucson, a few other large cities nationwide have seen rents grow more modestly, or in some cases, even decline. Tucson is still more affordable than most similar cities across the country.
Tucson's median two-bedroom rent of $1,309 is slightly below the national average of $1,348. Nationwide, rents have grown by 5.7% over the past year compared to the 8.7% rise in Tucson.
While Tucson's rents rose sharply over the past year, the city of Detroit saw a decrease of 2.0%.
Renters will find more reasonable prices in Tucson than most other large cities. For example, San Francisco has a median 2BR rent of $2,644, which is more than twice the price in Tucson.
For more information check out our national report. You can also access our full data for cities and counties across the U.S.