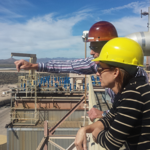 EPA Rule Would Result in Shutdown of Cochise Generating Station – eliminate 245 high wage jobs

U.S. Representative Martha McSally yesterday in a letter called on Environmental Protection Agency (EPA) Administrator Gina McCarthy to modify a rule that would result in the complete closure of the Apache Generating Station near Willcox, Arizona. Implementation of the proposed rule as it is currently written would eliminate 245 high-wage jobs in the Second District and expose 350,000 rural residents to dangerous energy reliability issues.
"The Proposed Rule penalizes Arizona's leadership in development of carbon-free and low-carbon energy resources and seeks to encumber the state with some of the most stringent carbon dioxide reduction requirements in the country," Rep. McSally said in the letter. "Implementation of the Proposed Rule will result in increased cost and decreased reliability for hundreds of thousands of Arizona residents."
The EPA's proposed rule, referred to by the agency as the Clean Power Plan, requires Arizona to cut carbon emissions by 52% over the next 15 years, the second most stringent requirement in the country. State officials have cautioned against "irreparable disruption" to the state's power grid if the proposed rule moves forward and have called for increased flexibility in meeting Arizona's requirements.
"EPA's proposed Clean Power Plan completely ignores important technical and economic realities in Arizona, especially in rural Arizona, where some of the state's poorest residents will be impacted more than almost anywhere else in the country—with power plant closures, hundreds of lost jobs, massive rate increases, defaults on federally guaranteed debt, and serious problems with grid reliability," said Patrick Ledger, CEO of Arizona Electric Power Cooperatives. "We welcome Congresswoman McSally's support for the "Arizona Solution," a more realistic approach supported by all the Arizona Utilities that balances the EPA's carbon reduction goals with our objective to keep electricity affordable and reliable, and puts Arizona on an even playing field with neighboring Western states."
Rep. McSally has toured the Apache Generating Station near Willcox and worked with station officials to ensure affordable, reliable energy access to rural residents in the Second District.
"I strongly encourage you to consider the impacts this Proposed Rule would have on Arizona's rural families and businesses," Rep. McSally said.
A PDF of the letter can be found HERE.