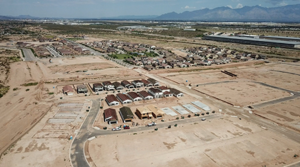 TUCSON, Arizona – Richmond American Homes acquired an additional 90 homesites at La Estancia, a Sunbelt Holdings' master planned community in East Central Tucson for $4.96 million ($55,125 per finished lot) or $1,225 per finished foot frontage.
La Estancia is a 565-acre residential community located along the I-10 corridor between Wilmot Road and Kolb Road, and offers residents access to the nearby Julian Wash trail system
After restocking 74 homesites at La Estancia in February with 45' wide lots, Richmond's  current popular offering after having sold out its first 99 homesites that it began in 2017.
Will White and John Carroll of Land Advisors Organization in Tucson handled the transaction for buyer and seller, Sunbelt Holdings.
"Demand for La Estancia is very strong," said White. "All of our available 2019 lots were put under contract in the first half of the year, ahead of schedule. Since the community is performing so well, the goal now is to have new lots ready ASAP so we can make sure the homebuilders continue to have a seamless delivery."
In April, Tenet Healthcare bought land for a micro-hospital site to be built at the Wilmot Road entrance of La Estancia that will provide emergency and lower acuity inpatient procedures, with an around the clock emergency center staffed by board-certified physicians. Similar facilities built by Tenet in Phoenix and Marana have a footprint and design within a 32,500-square-foot building.
The community is within close proximity to the University of Arizona Tech Center, Amazon fulfillment Center, the David-Monthan Air Force Base, Tucson International Airport and in the highly-ranked Vail School District.
"The success and momentum the community is experiencing is great but not surprising at all. La Estancia offers a huge list of attributes that are important to Tucson homebuilders and consumers right now. Location, price point, Vail School District, and proximity to major employment and retail. This master-plan is going to be very busy for the next few years" 
Will White and John Carroll also handle all the marketing at La Estancia for Sunbelt Holdings. For more information, White and Carroll should be reached at 520.514.7454.
To learn more, see RED Comp #6949.