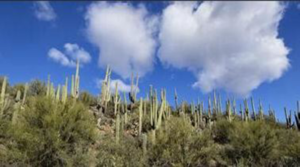 PIMA COUNTY -- The rifle and pistol range at Pima County's Tucson Mountain Park is set to re-open in mid-February, following demolition and reconstruction that was necessary because of extensive storm damage to its shooting ramada in July.
At least half of the ramada roof was ripped off the 50-year-old structure, rendering it beyond repair, said Leonard Ordway, Shooting Sports program manager for Pima County Natural Resources, Parks and Recreation.
The contractor completed demolition in November. The reconstruction work includes preserving the structure's historic stone columns, framing and installing a new roof that will be extended forward to provide additional shade and protection of firearms.
Total cost of the project is about $120,000. The new roof, built to modern engineering and design specs, will be able to withstand the monsoon winds, and will be slightly higher, providing better sound abatement.
"I know folks are anxious to see the range re-opened, but they're going to be really pleased when they see the finished product," Ordway said. "This is all about providing a better and safer experience for all our shooters."
NRPR also operates the Southeast Regional Park Rifle and Pistol Range, the Southeast Regional Park Clay Target Center, the Southeast Regional Park Archery Range, the Tucson Mountain Park Archery Range, and the Virgil Ellis Rifle and Pistol Range in Ajo.
Check the Shooting Sports website for updates on the TMP range closure as well as information and hours for all of the shooting ranges.