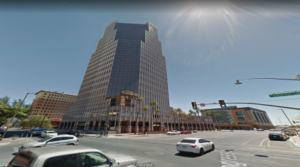 TUCSON, ARIZONA - The Rio Nuevo Board advanced a $38 million plan by Opwest Partners to revitalize the 23-story tower at 1 S. Church Ave. into a hotel and offices.
Opwest Partners' project would convert eight lower floors into a hotel with about 150 rooms, 1,500 square feet of meeting space, a 4,000-square-foot restaurant and a fitness center. Floors 11 through 23 would remain office space.
Tyler Kent with Opwest said the development is expected to bring in $1.6 million in annual tax revenue in years 4 through 9 and reach $1.9 million in year 10. After year 10, that revenue is projected to reach $2 million per year.
Developers are asking the Board for eight years of insulation from property taxes using the vehicle of a Government Property Lease Excise Tax (GPLET) lease and for site-specific sales tax revenue sharing of up to $1 million.
The proposal was unanimously approved by the Rio Nuevo Board subject to the executive officers' approval of the pending financial analysis.
Opwest Partners is an investment and development firm with expertise in mixed-use, hospitality, resort, residential, entertainment, office, retail and recreational properties. The principals of Opwest have invested in and developed more than $4.5 billion of real estate throughout the United States, including the Curio Hotel in Scottsdale; Montage Beverly Hills; Montage Deer Valley in Park City, Utah; Pendry Hotel in San Diego; and the Everly Hotel in Hollywood.
G.S. Jaggi, a founder, managing principal and major shareholder of Opwest, started a two-person firm based in Tucson and grew it into one of the largest privately held mortgage banks in the United States with 6,500 employees.
In other business, the Board also unanimously voted to move forward with plans to support the development of a block of East Congress Street that includes the former Chicago Music Store and the former Wig-O-Rama.
Patricia Schwabe of Peach Properties and Marcel Dabdoub unveiled plans that divide the nearly 28,000 square feet of available space along the block into several smaller businesses including a bakery, restaurant and bar, plant shop, record store and a potential new location for Bookman's Entertainment Exchange that would include a bar and cafe.
Patricia Schwabe said that several people have told her that it is important to save the 101-year-old building at 130 E. Congress St. that previously housed the Chicago Music Store and remains a focal point for downtown.
The entire second floor of the building, and part of the Gus Taylor building at 128 E. Congress, will be converted into "The L," a 13,000-square-foot coworking space.
Upon approval by the executive officers, Rio Nuevo offered to provide up to $1 million that could be drawn upon on a pro rata basis. The funds would be divided among the businesses based upon the square footage of their operations. The first $500,000 would be made available six months after the execution of a lease. The second half would be available 12 months after leases are executed, provided the tenant remains in business.
The effort is part of the Congress Street Activation Project, a $1.5 million plan to attract new businesses into vacant downtown storefronts along Congress.