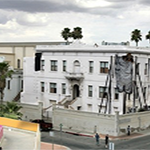 Taking advantage of increasing TIF revenues and the beneficial effects of refinancing the 2008 city issued bonds, at its May 31, 2016 Regular Meeting, the Rio Nuevo Board approved an administrative budget of $1.4 million and a downtown project budget of $17.4 million for the fiscal year beginning July 1, 2016.
The previously announced projects include the TCC Arena upgrades for the American Hockey League, the completion of the AC Marriott Hotel, 15,000-square-feet of new retail on the Westside, the initiation of the design for Caterpillar's new headquarters building and the new Greyhound bus terminal.
The Board also approved the revised budget for the completion of the Mission Garden, increased the Greyhound terminal budget from $1.7 to $1.9 million, and authorized its attorneys to complete the Greyhound lease by taking the actions necessary to close on the purchase of the parcel at Broadway and Euclid.
Finally, the Board unanimously approved a $350,000 investment in the senior housing project designed to save the historic Marist College building and transform it into low-income senior apartments for those 62 years old and older.
The vacant Marist College building, located in downtown Tucson at 64 West Ochoa Street, is the largest and oldest adobe structure in the state. It was almost demolished, because it was deemed unsafe. Right now, drivers who pass by it on Church Ave. across from the Tucson Convention Center can see beams holding the building up.
The Marist College building would house eight apartments. The project also includes 75 more apartments in a new seven-story building that would replace the existing Tucson Catholic Diocese Offices located just a few steps away at the corner of Broadway and Church.
"It gives us the points we need to give us a better chance of low-income housing tax credits," said Stephen Hastings who works for Foundation for Senior Living (FSL).
It is a major step forward after many years of failed attempts to save the building and give it a makeover.
However, it's not a done deal yet. Those close to the project say Rio Nuevo's support is a major step forward to making it a reality and diversifying downtown's redevelopment movement.
If all goes as planned, FSL's goal is to break ground next year and have seniors ready to move in by spring 2018.