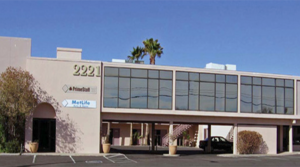 TUCSON, ARIZONA – Rio Nuevo Multipurpose Facilities District bought a 12,686-square-foot office space from New Dekel, LLC (Amram Dahukey, managing member) at 2221 East Broadway Boulevard in Tucson for $700,000 ($55 PSF). The 62% vacant multi-tenant building was constructed in 1965 and is located on the Broadway widening area known as the Sunshine Mile district.
Rio Nuevo, the City of Tucson and the Regional Transportation Authority (RTA) have an agreement to offer incentives to private developers to create walkable, outdoor plazas with places to eat and shop areas along three public sections of Broadway between Euclid Avenue and Country Club Road.
Rio Nuevo has issued three Requests for Qualifications (RFQs) for professional design services and redevelopment plans for three properties along the Sunshine Mile, including this recently acquired property known as the "Donut Hole Block".
Plans as to what will be done with these public / private spaces are fluid.
In 2017, New York-based, Project for Public Spaces (PPS) prepared a program and vision plans for two of the three walkable clusters projects along the Broadway Sunshine Mile: the Historic Bungalow Block and the Solot Block. These plans provided suggestions on how to transform the two clusters into vibrant and unique destinations. Included were landscape and urban plans, sketches and precedent images. PPS is to develop a similar placemaking vision for the third destination: the "Donut Hole Block" though stakeholder interviews, focus groups and other outreach techniques planned to obtain consensus and ideas for the detailed block placemaking block plans.
Placemaking inspires people to collectively reimagine and reinvent public spaces as the heart of every community. Strengthening the connection between people and the places they share, placemaking refers to a collaborative process by which the community can shape the public realm in order to maximize shared value. More than just promoting better urban design, placemaking facilitates creative patterns of use, paying particular attention to the physical, cultural, and social identities that define a place and support its ongoing evolution.
PPS is to collaborate with the architectural firms selected by Rio Nuevo to develop a block by block plan for the three selected destinations. The block by block plan will be developed with a level of detail necessary to obtain RTA approvals and property titles for the three areas.
PPS will be responsible for a conceptual design that ties into the vision plan and a neighborhood-wide strategy, the proposed clusters' activation and programming, and pedestrian, bicycle and vehicular access to the walkable clusters, with parking strategies. PPS will produce detailed plans and 3D views for each of the blocks and collaborate with and support the architectural firms regarding their deliverables.
Dave Montijo, Damian Wilkinson and Ian Stuart of CBRE's Tucson Office represented the seller, New Dekel. The buyer was self-represented with Rio Nuevo, secretary, Mark Irvin, CCIM, SIOR, of Mark Irvin Commercial Real Estate acted on behalf on behalf of buyer as a non-commissioned broker.
For additional information, Montijo should be reached at 520.323.5136, Wilkinson is at 520.323.5193 and Stuart can be contacted at 520.323.5180. Irvin can be reached at 520.620.1833.