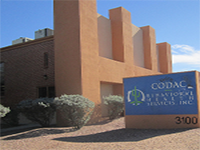 TUCSON, Arizona — CODAC Behavioral Health Services will be relocating from 3100 N 1st Avenue in Tucson to Fort Lowell Office Plaza at 360-380 E Fort Lowell Road in Tucson.
CODAC sold the building at 3100 N 1st Avenue for $1 million ($53 PSF). The 18,729-square-foot building on 2.02 acres was purchased by CODAC in 2003 and was fully occupied for health services since that time.
Rob Tomlinson and Paul Hooker with Cushman & Wakefield | Picor represented CODAC in the sale. Rick Volk with Volk Company in Tucson represented the buyer, JFW First Ave., LLC.
CODAC will lease the 20,221-square-foot building at 380 E Lowell Road in Tucson, known as Fort Lowell Office Plaza. An affiliate of Rio West Development & Construction, 380 Holdings LLC (Walter Hoge, manager) bought the building for $970,608 ($48 PSF) to redevelop it for CODAC's specific use. The two-story building is elevator served and has 12 covered parking spaces.
Rio West, a local General Contractor since 1994, specializes in construction, development and project management for office, medical, retail, industrial and specialty type projects. Whether providing construction management for multi-million dollar projects or General Contracting Services for tenant build-outs, Rio West is well-known for delivering proven experience and expertise consistently to clients. Rio West has also proactively embraced a growing interest in Green building practices, designs and products, becoming a LEED Accredited Professional.
Tom Nieman, Office Specialist with Cushman & Wakefield | PICOR, represented the Rio West and the seller, a private investor, in the sale transaction.
Nieman also represented Rio West as landlord, in the lease negotiation while Paul Hooker represented the tenant, CODAC Behavioral Health Services.
CODAC was able to leaseback the building on 1st Avenue while renovations are being completed at Fort Lowell Office Plaza.
For additional information, Nieman can be reached at 520.546.2728, Tomlinson is at 520.546.2757 and Hooker can be contacted at 520.546.2704. Volk is also reachable at 520.326.3200.
To learn more, login and see RED Comp #4365 and RED Comp #4509.