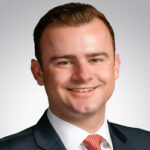 PHOENIX, ARIZONA (January 25, 2023) — Northmarq's Phoenix investment sales office announced that Ryan Boyle has been promoted to vice president. He will continue to work under the mentorship of Jesse Hudson, managing director, and Trevor Koskovich, president – investment sales. As vice president, Boyle will continue to specialize in private capital multifamily sales throughout the Southwestern United States. Additionally, he will coordinate with the ten debt and equity experts four other brokers also in the Phoenix office.
"Ryan has been an integral part of the team since joining in his role as associate," said Hudson. "We are excited to see Ryan deliver the same superior level of service to clients seeking multifamily solutions in Phoenix and the Southwest, while also using his fresh perspective and local expertise to find new opportunities."
Boyle attended Arizona State University where he earned his Bachelor of Arts in Communications and is a licensed agent with the Arizona Department of Real Estate.
"I am grateful for all the mentorship Jesse and Trevor have provided since my start at Northmarq.  I look forward to continuing to utilize the Northmarq platform to provide clients with industry leading multifamily service and solutions," said Boyle.
Recently, Boyle completed the following sales:
Luxury rental home community – $53 million; 144-unit build-to-rent community in Mesa, Arizona. Read the full story.
Enclave on Bethany – $25 million; 120-unit multifamily property in Glendale, Arizona. Read the full story.
Montecito –$22.3 million; 92-unit multifamily property in Glendale, Arizona. Read the full story.