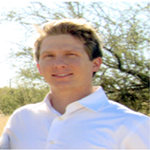 The Tucson community mourns the passing of Ryan Heinfeld, CCIM, who will be sorely missed in the real estate community, was in line to becoming the 2022 President of the Southern Arizona CCIM Chapter.
On August 10, 2019, Ryan William Heinfeld, beloved son and brother, passed away at the age of 31. Ryan was born on January 30, 1988 in Tucson, Arizona to Amy and Gary Heinfeld. He received his degree from the University of Arizona in 2012, and was a graduate of Catalina Foothills High School. Ryan was a successful Realtor, earned his CCIM designation and served as Secretary of the Southern Arizona CCIM Chapter.
Ryan had an immeasurably kind spirit, a compassionate heart, and an infectious smile. He lived his life by the values of loyalty, inclusivity, and generosity and made the world better for it. He touched so many lives and will be forever missed by his family and friends. He is survived by his parents, brother, Christopher; sister, Jennifer (Emil Bäckström) and many aunts, uncles and cousins.
A Funeral Mass will be held at St. Thomas the Apostle Parish, 5150 N. Valley View Road, at 10:00 a.m. on Saturday, September 28, 2019. Because of Ryan's concern for the well-being of our planet, please consider planting a tree in his memory or making a donation to the Arbor Day Foundation. Arrangements by ADAIR FUNERAL HOMES, Dodge Chapel.