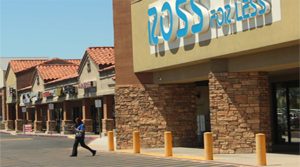 Sahuarita, Arizona – The Sahuarita Plaza Shopping Center at 18705-18806 South I-19 Frontage Road in Sahuarita sold for $14,760,492 ($106.47 PSF). The seller, Cole Valley Partners (Zach Bonsell, managing partner) acquired the Sahuarita Power Center located at the I-19 and Duval Mine Rd Interchange in December, 2014.
Dollar Tree was added to the west end of the center by Cole Valley Partners and additional building square footage that totaled 138,639-square-feet at time of sale on 19.74 acres.  Anchored by Ross, Big Lots, PETCO, and Ace Hardware the center was 100% occupied when it sold.
See Real Estate Daily News Sahuarita Power Center Sells for $12.23 Million for prior transaction.
David Bernstein and Dave Murphy with The Bernstein Murphy Companies of Scottsdale represented the seller. Sean Thomas with SRS in Phoenix represented the investor, SD – Sahuarita Properties, LLC (LBM Investments, manager) of LaJolla, California.
For more information, Bernstein and Murphy can be reached at 480.656.1150 and Thomas can be contacted at 602.682.6000.
To learn more, see RED Comp #5334.