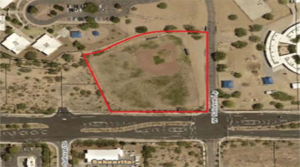 SAHUARITA, Arizona — With the unanimously approval by Pima County Board of Supervisors on June 19, the acquisition of 3.227 acres of land from Sahuarita Unified School District for $621,509 ($4.42 PSF) for the new Sahuarita Library can proceed. Purchasing this property allows the County to build the Sahuarita Regional Library in a central location accessible to Sahuarita residents.
A new 20,000-square-foot library will replace a school baseball field. It was expected to open in mid-2019 and is now expected to open Sept. 21, 2020.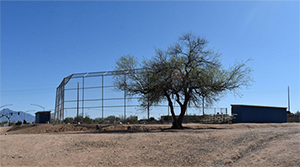 The purchase price for the property at $621,509 reflects a middle point between two recent appraisals. The Library District's appraisal came back at $560,000 and the Sahuarita School District's at $675,000.
Located across from the current library at 725 W Via Rancho Sahuarita Road, the new library site is next to the Fry's gas station at the northwest corner of West Salome Loop and Sahuarita Road.
The county's lease on the current 2,000-square-foot modular building expires in June 2019 but Rancho Sahuarita Developer, Sharpe and Associates has agreed to extend the lease for the County.
"The Sahuarita Regional Library will be a vibrant center for community connection with programs and services for people of all ages," said Pima County Public Library Deputy Director Michelle Simon. "Sahuarita residents have eagerly anticipated the construction of this library and we look forward to becoming an integral link in the fabric of the community."
The purchased property is currently located in the Sahuarita School District Campus. Once built, the library's close proximity to the existing schools will provide for easy accessibility to students and residents alike. Simon added the location will also be conducive to collaborative partnerships with the local school district, community organizations, and the Town of Sahuarita.
Holly Schaffer, community relations manager for Pima County Public Library, said the land purchase process took longer because the library had to revisit a proposal from the Town of Sahuarita.
Breaking ground for the new library could start at the end of summer or early next year, according to Schaffer. The library wants to secure an architect by July 1 with neighborhood meetings planned for input on the design. From there, the project will take about 23 months, she said.
Construction of the Sahuarita Regional Library will be funded through the Library District Tax Levy, according to county documents.