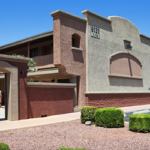 Sale Negotiated by Hahn, Sherman and Koskovich of Colliers International
Phoenix, AZ – Colliers international in Greater Phoenix negotiated the sale of San Simeon, an apartment community located at 6091 E. Golf Links Road in Tucson, Arizona. The 70-unit asset sold for $3.74 million or approximately $53,428 per unit.
Bill Hahn, Jeff Sherman and Trevor Koskovich, executive vice presidents with Colliers' Phoenix office, represented the seller, Corey Peterson of Gilbert, Arizona.
The property was acquired by MCFT Holdings, LLC, a company formed by San Diego-based McMillin Homes, who was self-represented. MCFT Holdings acquired the asset as a long-term investment and plans to implement general property upgrades.
San Simeon was built in 1963, and underwent a large-scale renovation in 2013. The 70-unit asset consists of 57,865-square-feet in five two-story buildings on approximately 1.33 acres. The unit mix comprises 10 one-bedroom, 57 two-bedroom and 3 three-bedroom apartments, ranging from 615-square-feet to 985-square-feet. Occupancy at time of sale was 96 percent.
Common amenities include a swimming pool, playground and gated courtyards. Interior features include walk-in closets, stainless appliances, granite counters and washer-dryer hookups.
San Simeon is well-situated with several educational facilities nearby, including K-12, Pima Community College, Tucson College and the University of Arizona. It is also in proximity to major employment generators, including Davis-Monthan Air Force Base, U of A Medical Center, Tucson Medical Center, Target-anchored El Con Center and Dillard's-anchored Park Place Mall. The surrounding area offers grocery stores, shopping centers, healthcare facilities and public parks.