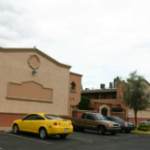 This article has been archived, please login for access or subscribe now by going to the subscribe tab at the top of page.
San Simeon, a 70-unit condominium project that currently operates as apartment rentals at 6091-6141 East Golf Links in Tucson sold for[mepr-show rules="58038"]$3.5 million ($49,500 per unit). The investor, San Simeon East Golf Links LLC, is a private investment group based out of Gilbert, AZ (Corey Peterson, principal). The property was originally built in 1963 and rebuilt in 2012. The seller, San Simeon Apartment Partners, LLC of Costa Mesa, CA (John Orlandini, principal) purchased the property in 2011 for $700,000 ($10,000 per unit) from the lender in an REO sale and completely rebuilt the property.
"This was a unique opportunity to acquire a virtually new condominium project, with majority two-bedroom unit types, which later could be sold as individual units. Part of the key to this marketing assignment was to find a buyer that would appreciate the future value of condos and he buyer in this case was an experienced home buyer from the Phoenix market," stated Alon Shnitzer with the Orion Multifamily Group.
"The seller of this property is an experienced Arizona apartment operator and owner. Throughout the years we have represented them on multiple purchases and sales. The sale of San Simeon Condominiums is their last property in Tucson," according to John Kobierowski with the Orion Multifamily Group.
San Simeon Condominiums is located adjacent to Davis Monthan Air Force Base. Residents at the property enjoy the sparkling pool, children's playground, mature landscaping and private gated courtyards. In unit amenities include washer/dryer hook-ups, granite countertops, tile flooring, upgraded lighting, new appliances and private patios or balconies. San Simeon Condominiums offers a diverse unit mix of one- two- and three-bedroom unit types with an average square footage of 838 square-feet.
The property has a walk score of 45 and a bike score of 76.
This acquisition of San Simeon Condominiums is the first multifamily/condominium purchase in Tucson. The property was purchased to keep as apartment units until such time as the market is ready for condominium sales.
Alon Shnitzer, John Kobierowski, Rue Bax, Doug Lazovick and Eddie Chang with ORION Investment Real Estate of Scottsdale negotiated the transaction. The ORION Multifamily Group should be reached at (480) 634-6934.[/mepr-show]
Login for additional information.
[ismember]The sale date was 8/30/2013. Exact sale price was $3,445,000 net of a $20,000 credit to buyer. Total Rentable building area was 58,670 SF. San Simeon was about 93% occupied at COE. The unit mix is as follows: (9) 1/1 @ 615 SF; (30) 2/1 @ 810 SF; (20) 2/1+Den @ 900 SF; (8) 2/2 @ 985 SF; and (3) 3/2 @ 985 SF. [/ismember]