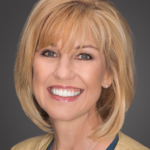 Tucson, Arizona - Sara Rohde has joined the Southern Arizona Home Builders Association (SAHBA) as the organization's Membership Director.
She will be responsible for membership retention and recruitment as well as programs and events to help improve members' engagement within the home building industry.
Before joining SAHBA, Rohde was Assistant Director of Communications and Marketing for the University of Arizona Student Union.  She has managed marketing and sales teams for Madaras Gallery, a trade association and a YMCA in Georgia which grew five-fold through her programs.  For seven years she served on the YMCA of the USA national marketing advisory board.
Rohde earned a Bachelor of Arts from the University of Wisconsin.
SAHBA represents 350 member businesses serving the home construction industry in Pima, Cochise and Santa Cruz counties.