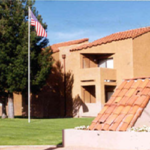 Tucson, AZ  — Berkadia Real Estate Advisors of Tucson has completed the sale of Rillito Village Apartments at 3700 N 1st Avenue, in Tucson, Arizona, for $12.8 million or $47,059 per unit.
Art and Clint Wadlund with Berkadia's Tucson office, represented the seller in the transaction. The seller was Rillito Village, MMLP, LP, an affiliate of Montford Management, LP of Frisco, Texas.
The buyer was California-based SB Pacific Group of Berkley, California (Brandon Lo Porto, partner).
Built in 1984, Rillito Village is a 272-unit Class B asset, consisting of 140,672-square-feet in 35 buildings on 9.17 acres. The two-story community offers a mix of studios, 1-bedrooms and 2-bedroom/1 bath units. On-site amenities include swimming pool, fitness center, and laundry center.
The property had undergone many renovations and capital improvements within the year prior to sale interior and exterior of the buildings.
SB Pacific is a real estate investment and development company specializing in opportunistic investment and value-added infill development. Founded in 1986, the company was previously known as Pacific Bay Investment. The company focuses on investments at locations in California, Texas and Arizona. Properties include multifamily, office and retail products valued in the approximate range of $5-$50 million each.
For more information, Art Wadlund can be reached at 520.299.7200 and Clint Wadlund is at 520.529.9206.
To learn more, see RED Comp #3717.