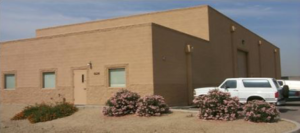 A Scottsdale-based company purchased two industrial properties in Phoenix for a combined total of $2,715,000.
The two investment properties consisted of a 16,500-square-foot warehouse at 21018 N. 22nd St. in Phoenix for $915,000 ($55.45 PSF) and a 14,000-square-foot warehouse with 4.92 acre site used for a vehicle storage facility at 2626 S. 16th St. in Phoenix for $1.8 million ($128.57 PSF).
Lee & Associates broker Pete Batschelet represented the buyer, Scottsdale Investment Management of Scottsdale.  The seller of the 16th Street property was represented by Gary Best, CCIM, and John Hamner, associate broker with KW Commercial of Tucson
The 16th Street property is leased to the Arizona Department of Public Safety and uses the vast paved and fenced yard as a vehicle storage facility, a 9,000-square-foot building and a 5,000-square-foot shop space and 9 years remaining on their lease.
The 22nd Street property is leased to X-treme Apparel for 8 years. The building features heavy power, 20' clear height and approximately 10 percent office space.
The properties were bulk financed together.
To learn more Batschelet can be reached at 602.912.3522. Best should be contacted at 520.444.0799 and Hamner at 520.907.0030.
Login for more information.
[mepr-show rules="58038"]Property at 2626 S 16th Street sold at a 9.5% cap rate and was in escrow for 120 days. As all State leases it carried a 60 day cancellation clause. [/mepr-show]